Jackson Holiday is the number one prospect in the entire MLB, and his rookie cards are a hot item. The kid has dominated every level of minor-league baseball. I wouldn't be surprised to see a late-season call-up in 2023.
Organization:

 Baltimore Orioles 

ETA:

 late 2023 or early 2024

Top rookie card:

 2020 Jackson Holliday Bowman Draft Chrome Refractor 1st #BDC-168

Related Players:

 Gunnar Henderson, Adley Rutschman, Ethan Holiday (brother), & Matt Holiday (father).
The Orioles drafted Jackson with the 1st overall pick in the 2022 MLB June Amateur Draft from Stillwater HS. Jackson was considering playing college ball for OK State but opted to fast-track his career. He entered his name in the 2022 draft. This move has undoubtedly paid off as his career minor leaguer stats include a .324 batting average, .974 OPS, and 60 RBIs.
He stands 6 ft tall and weighs 180 lbs. He can play shortstop or second base, and his defense is top-notch. The Orioles have an absolute beast on their hands, and if you still need to invest in a few of his rookie cards, now is the time to correct that error.
Top Jackson Holiday Rookie Cards
I started collecting his baseball cards when he was drafted with the 1st pick in the draft and haven't looked back. Below are the top five Jackson Holiday rookie cards to buy as of July 2023. Please check back every so often for updates.
#1. 2022 Jackson Holiday Bowman Draft 1st Chrome RC #BDC168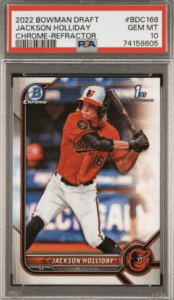 A great-looking Jackson Holiday rookie card that shows him destroying the baseball for what we can only assume to be extra bags. The card itself should be the best of all his cards (now and to come) regarding return on investment.
Bowman has placed their logo in the top left-hand corner of the card, his name centered at the bottom, resting next to the Baltimore Orioles trademark logo. The word "1st Bowman" is printed in the top right-hand corner.
Buy ungraded lots or PSA 10 grades of this card on eBay.
#2. 2022 Jackson Holiday Bowman Draft 1st Chrome Auto Refractor #CDAJH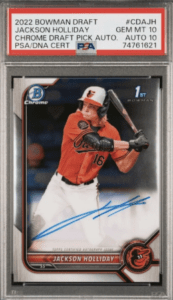 An exact copy to the #BDC168 but rarer and more expensive due to the lucrative autograph. The card shown above is a PSA 10 in terms of card and auto, making it an absolute gem worth vast amounts of money.
Trending: Buy These 3 Oneil Cruz Rookie Cards Now
The ROI will be slightly lower than the base version w/o an auto but the payout is likely more significant.
#3. 2023 Jackson Holiday Bowman Chrome Spotlight #BS6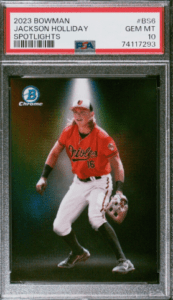 This card is beautiful, featuring Jackson in a spotlight with a dark/rainbow-like backdrop. This is one of the better photos I have come across lately, and I would purchase it based on beauty alone. Numbered #BS6, the card is an absolute bargain at current PSA 10-grade prices. We suggest buying now.
#4. 2023 Jackson Holiday Bowman Chrome Prospect #BCP20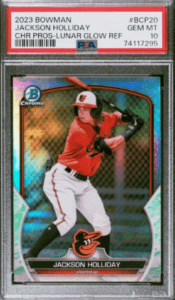 Do you see a theme developing?
Jackson Holiday plus Bowman Chrome are great when investing in Jackson Holiday baseball cards. The 2023 Jackson Holiday "Lunar Glow" Bowman Chrome Prospect card is numbered #BCP20.
I love the Lunar Glow look and have invested in two cards at PSA 10 grades and one at a BGS 9.5. This card may eventually fall in my top 5 rankings as more of Jackson Holiday's rookie cards are released (i.e., Topps), but it sits at number 4 for now.
#5. 2023 Jackson Holiday Modern Prospects Chrome Refractor #MP4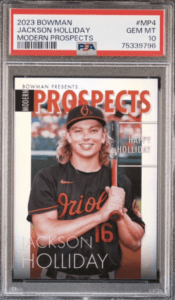 Here is an excellent Jackson Holiday card for those not looking to spend a lot but still receive a solid ROI over the long haul. Numbered #MP4, this Jackson Holiday card shows him smiling with the bat hanging over his left shoulder. The pose is similar to the legendary Bill Ripken F you error card but without the naughty word on the bat.
His name, "Jackson Holiday," is printed in all caps and placed in the bottom left while the words "Bowman Presentsd Modern Prospects" sit atop the card. The words "Happy Holiday" sit next to his smiling head.
A fun card that can be had for well under $100 at PSA 10 grades.
We have bought three of these cards at PSA 10 grades.
Most Valuable Jackson Holiday Rookie Card?
2022 Jackson Holiday Bowman Chrome Gold Refractor Auto PSA 10:

 Sold on 5/8/2023 for $6,300 with 37 bids.

2022 " " BGS 9.5/ Auto 10:

 Sold on 5/29/2023 for $5,101 with 25 bids.

2023 Jackson Holiday Bowman Chrome Red Refractor Auto Not Graded: Sold 7/2/2023 for $4,999 with 1 bid (be skeptical of cards with only one bid).
Summary
I couldn't find anyone on our Cardboard Nerds team that has any negative about Jackson Holiday baseball cards. Like former phenoms Vlad Jr. and Ronald Acuna Jr, the kid can't miss much. 
Only time will tell, but we are betting big that Jackson Holiday will take the MLB by storm in either year one or two. 
Ownership disclosure:

 52 Jackson Holiday rookie cards in total (around half being #BDC168)

Our favorite card as an investment:

 2022 Jackson Holiday Bowman Draft 1st Chrome RC #BDC168

Our favorite card in terms of looks:

 2023 Jackson Holiday Bowman Chrome Spotlight #BS6