Victor Wembanyama's rookie cards are on fire after being crowned the savior of San Antonio and next in line to the throne, following David Robinson and Tim Duncan. The Spurs drafted Victor Wembanyama with the 1st overall pick in the 2023 NBA Draft.
Wembanyama played professional basketball with the Metropolitans 92 and led the league in scoring, rebounds, and blocks. Many experts have called Victor the best prospect since LeBron James. He has been named an LNB All-Star twice, winning All-Star Game MVP once, and is a three-time Pro A Best Young Player.
View the Hottest Victor Wembanyama Cards Auctions on eBay Now
He should have no problem fitting into the NBA, having played pro ball in Europe. Usually, these players develop quicker than players coming out of college (see Luka Doncic).
Run Down
Age: 19 years old
Previous Teams: 2019–2021 Nanterre 92 | 2021–2022 ASVEL | 2022–2023 Metropolitans 92 | 2023–present San Antonio Spurs
Listed height: 7 ft 5 in
Listed weight: 210 lb
Position: Power Forward
Scouting: He is a productive scorer in the paint, with an incredibly soft touch and a variety of post moves, and excels in the pick-and-roll
Who in the world is Victor Wembanyama?
Victor was born on January 4, 2004, in Le Chesnay, France. He is listed as 7 ft 5 in (2.26 m) and weighs 210 lb (95 kg).
As a great example of an ultra-modern player, Victor Wembanyama has few basketball cards to choose from as he is only 19 years old and just arrived in the US. We'll provide a few of the best options, but this article will be updated every so many months as his rookie cards roll out over the next several years.
His father, Félix, was a world-class track and field star competing in the high, long, and triple jumps. His mother, Elodie de Fautereau, is a basketball coach and former player. You might say this kid was destined to play in the NBA with those genetics.
Wembanyama emerged as one of Europe's top prospects at age 14, and experts worldwide were predicting a first-overall pick in his draft class by age 16.
The Spurs drafted him on 22 June 2023 with the top overall pick. Several milestones were made with the pick, including; becoming the first French player to be drafted with the first overall pick, the second European player to do so (following Andrea Bargnani in 2006), and the Spurs' third first-overall pick ever after David Robinson and Tim Duncan (he has big shoes to fill literally).
The Top 5 Victor Wembanyama Rookie Cards
A major theme in Victor Wembanyama's rookie cards is the complete lack of Panini-branded cards. Panini is by far the largest and most popular brand in basketball cards. The Victor Wembanyama Prizm rookie card will certainly be one of the most popular cards upon its release.
#1. 2023 Victor Wembanyama Panini Prizm Draft Picks Rookie Silver #2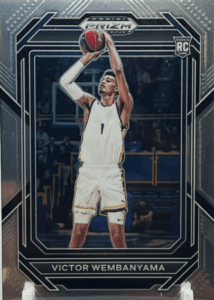 For now, the Wembanyama Prizm DP Silver is my top rookie card pick for this future super star. Panini Prizm cards constantly out perform almost every other card in the market in terms of ROI and are usually the most popular in basketball.
#2. 2022 Victor Wembanyama Bowman's Best University Refractor Auto Spurs SSP #BOA-VW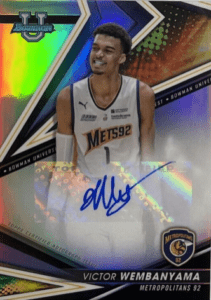 The card is the hottest of his rookie/prospects cards and the most expensive. Some of the high-end parallels peak out at around $10k.
#3. 2023 Victor Wembanyama SI For Kids #1053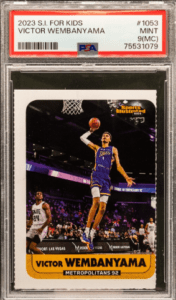 Out of all the early Wembanyama basketball cards, this is definitely one to invest in. Numbered #1053, the 2023 SI for Kids rookie card shows Wembanyama going up for an uncontested slam dunk while sporting his purple Metropolitans 92 knit.
His name and team name are printed at the bottom of the card, while the words "Sports Illustrated" are printed in the top right-hand corner. We have bought several of these cards, all at PSA 9 grades. Please note obtaining this card at a PSA 10 grade is not impossible, but very difficult, to say the least.
From PSACard.com:
PSA 10 grades: 0
PSA 9: 3
PSA 8: 61
PSA 7: 147
PSA 6: 204
Please note the above is just a sample from consumers who sent their data into PSA Cards and is not an all-inclusive list. However, it shows how difficult it is to obtain a high grade.
#4.

2023 Victor Wembanyama Topps Allen Ginter RC #271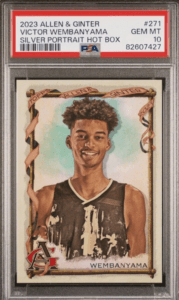 Topps A&G cards have been around for a minute and are one of my favorite sets to collect. I love the portrait style design and the 2023 2023 Victor Wembanyama Topps Allen Ginter does not disappoint. I have this card in PSA 10 and PSA 9.
#5. 2023 Victor Wembanyama Slam Deck Equipes de France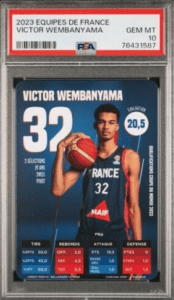 A sleeper.
I could see this card being popular five years from now once his France rookie cards are popular again.
#6. 2023 Victor Wembanyama French Metros Kaboom Cracked Ice Dynasty Inc SSP #1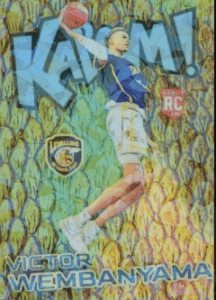 KABOOM! is one of my favorite brands, and this card is no different.
#7. 2022 Victor Wembanyama Bowman Chrome University SP #101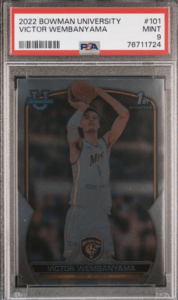 A Bowman University card is up next. A decent-looking card, but I'm not a fan of the Bowman U brand.
What is the most expensive Victor Wembanyama Basketball Card?
His most expensive card sold on eBay auctions was the 2022-23 Bowman Best U Victor Wembanyama Auto Red Lava Refractor 1/5 Number Match RC. This card sold for $10,100 and had 34 bids. The term "number match" refers to the jersey number of the given player matching the number of the card produced. For example, a 2021 Luka Doncic Prizm Basketball Card 11/99 would be considered a number match as Luka wears number 11.
Trending: 5 Things You Need to Know About 2022 Panini Chronicles Football & Top Cards
If you would like an estimated value regarding the value of a Victor Wembanyama basketball card, please DM us on Facebook, and we will provide an estimated value of the card. Be sure to include several photos of the card in your DM.
Bottom Line
LOAD UP.
In our opinion, this kid is going to be a beast in year one. Not only should he easily win Rookie of the Year, but he should do wonders for the overall Spurs record. Invest in the SI for Kids or the 2023 Victor Wembanyama Slam Deck Equipes de France basketball card only, or wait for Panini rookie cards to be released.
Ownership disclosure:

3 2023 Victor Wembanyama Slam Deck Equipes de France Rookie RC PSA 10 and 8 SI for Kids RC PSA 9

Long-Term rating: 9.89 out of 10
He is another young phenom you may want to consider: Jackson Holiday Rookie Cards.