Get ready to dive into the electrifying world of Michael Jordan's most coveted basketball cards! As one of the greatest athletes in history, cards bearing his image are not just pieces of cardboard but treasured collectibles.
This article will take you on a thrilling journey through the top 9 most valuable Michael Jordan basketball cards that have turned hobbyists into high rollers. Each card's unique tale of rarity and value reflects moments from Jordan's legendary career. So, lace up your high tops; we're about to embark on an epic slam dunk into the realm of these prized possessions!
Who Is Michael Jordan?
If you don't know who Michael Jordan is, please remove yourself from the rock you have lived under for the last 50 years. MJ is the greatest NBA player of all time, and it's not even close. He played in 6 NBA title games and won all 6.
Jordan is the principal owner and chairman of the Charlotte Hornets of the NBA and of 23XI Racing in the NASCAR Cup Series. He currently runs ad campaigns for Nike, Gatorade, and Hanes underwear. MJ was integral in popularizing the sport of basketball and the NBA around the world in the 1980s and 1990s. Jordan, along with Messi and Ronaldo, is undoubtedly one of the most popular athletes in the world.
#1. 1997-98 Upper Deck Michael Jordan Game Jerseys Autograph Card
This extraordinary card marks a significant milestone in basketball memorabilia. Issued in 1997, it was the first pack-issued autographed card of Air Jordan. What makes it extra unique is that it features a patch from his 1992 NBA All-Star Game uniform, the game that bid farewell to Magic Johnson.
With its unique perforated design and rounded edges, only 23 copies exist worldwide! Not just a rarity, this card changed the game by being one of the first to incorporate game-used memorabilia, an on-card autograph, and a handwritten serial number.
The value skyrockets with the colors on the jersey patch, making it a priceless collectible. A copy of this card sold in 2021 for over $2 million, crowning it as the most expensive Michael Jordan card to date. So, if another pops up for sale, prepare for a bidding showdown! This card truly captures a slam dunk moment in sports history.
#2. 1997 Michael Jordan Precious Metal Universe Green Card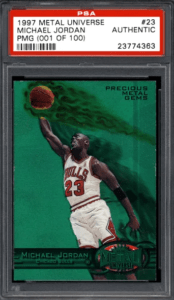 Imagine owning a gem that's rarer than a diamond. That's what the Michael Jordan Metal Universe Green card is to basketball fans! It's like finding a four-leaf clover in a field of greens. Only 10 of these green foil Jordans ever made, making it one of the most sought-after cards.
This card is part of the 1997-98 Precious Metal Gems series, where only the first 10 out of 100 total copies were green. The rest were red! Its shiny green foil front design makes it eye-catching but also very delicate, which is why it's super rare to find one in perfect condition.
Even though this card is so fragile, its value is sky-high. In 2020, a PSA Authentic MJ card sold for $915,000. So, if you ever spot this green gem, know that you've found a real treasure in the world of sports memorabilia!
#3. 1997 Metal Universe Michael Jordan Precious Metal Gems Red Card
Hey, hoops fans! Picture a basketball card that shines as bright as a Bulls game under the stadium lights. That's the 1997 Metal Universe Michael Jordan Precious Metal Gems Red card for you! It matches the Chicago Bulls color scheme with its foil front and deep red color, making it a slam dunk in style. While a green version might be more valuable, this red parallel is a true head-turner. Its sharp colors against the iconic Bulls uniform make it a must-have for collectors.
And guess what?
These cards are so unique that they only come up for sale about once a year! Here's a fun fact: A super shiny BGS 8.5 copy of this card sold for an astonishing $564,000 earlier this year. So, whether you're a collector or a big basketball fan, this red gem is an actual score in sports memorabilia!
#4. 1997 Super Rare Michael Jordan Skybox Card
Do you love collecting basketball cards? Well, a special card from 1997 is tough to find! It's called the Skybox E-X2001 Essential Credentials Now card, with a picture of basketball superstar Michael Jordan.
What makes this card so unique?
Only 72 of them were ever made!
That's not a lot, so they're super rare. This card doesn't have a signature or a piece of Jordan's jersey, which usually makes a card more valuable. But because there are so few cards, people want them. Another cool thing about this card is the picture of Jordan.
He's wearing a black Bulls jersey, which looks neat and makes the card extra special. So, if you're lucky enough to have one of these cards, you've got something very cool in your collection!
#5. The 2004 Exquisite Collection Limited Logos Card
In 2004, Upper Deck unveiled a breathtaking treasure in their Exquisite Collection, the Limited Logos series. This exclusive ensemble included merely 50 cards, each with an autograph from basketball legend Michael Jordan and a piece of his iconic Bulls jersey. This card, which was sold for a staggering $68,323 in March 2019, is a testament to its coveted status among collectors.
The card's visual appeal is undeniable, earning PSA's Gem Mint 10 designations for both the autograph and the card itself. Adding to its allure is the tri-colored patch from one of Jordan's red Bulls jerseys, lending an extra vibrancy.
The Exquisite Collection Limited Logos cards were so scarce and of such superior quality that only five were nestled into the special wooden boxes they came in. A true epitome of rarity and craftsmanship, this card is a must-have for any serious collector.
#6. 1985 Michael Jordan Merchante Campeonato Baloncesto Liga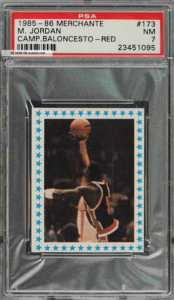 Valued at $6,988 in its most recent auction, the 1985 Merchant Campeonato Baloncesto Liga sticker is a unique piece of sports memorabilia. Distributed in Spain during the mid-1980s, this rare gem features a youthful Michael Jordan donned in his Olympic uniform. As part of the last amateur team that clinched the gold for the U.S. in Los Angeles, Jordan's image on this sticker is not just a portrait but a historical testament.
However, its rarity extends beyond its geographical origin. The sticker is notorious for its delicate composition, making it less sturdy than traditional cardboard stock. This fragility makes finding one in the top-notch condition a rarity, with no sticker ever being graded a perfect 10 by PSA.
Adding to its uniqueness, the back of this sticker boasts a yogurt advertisement, available in two versions – red and blue. The blue version is notably more scarce, with the highest PSA-graded red-back version being a 9, while the blue-back performance has only been graded up to an 8. This elusive and distinctive memorabilia is a coveted treasure for any Jordan fan or serious collector.
#7. 2000 Upper Deck Michael Jordan/Kobe Bryant Game Jerseys Combo Patch
Seventh on our list is the 2000 Upper Deck Michael Jordan/Kobe Bryant Game Jerseys Combo Patch, a classic patch auto that captures a pivotal transition in NBA history. This card is particularly significant as it marks the first set featuring dual autographs of these two basketball titans. It is widely collected even today, symbolizing the passing of the torch between two of the greatest shooting guards the NBA has ever seen.
The card houses two game-worn patches, carrying the sweat and grit of countless games played by Air Jordan and The Black Mamba. Alongside the patches are on-card autographs of both players, adding a personal touch to these legendary athletes. This unique combination of elements makes the card an embodiment of their enduring legacy.
Last auctioned at Heritage for an astounding $516,000 in 2021, this card is much more than a collector's item. It's a piece of basketball history, a testament to the greatness of Jordan and Bryant, and a celebration of their remarkable careers.
#8. Michael Jordan Fleer '93-'94 League Leader Card
The Michael Jordan Fleer '93-'94 League Leader Card is not just a piece of cardboard. It's a portal to an era of basketball brilliance. This classic Fleer edition card vividly captures Michael Jordan in his element, suspended mid-air, eyes on the basket, poised to score.
Turn the card over, and you're presented with a concise summary of MJ's legendary career, highlighting the records he shattered and the legacy he etched into the annals of basketball history.
Priced at $360,000.95 on eBay, this card might seem like a hefty investment. But remember, you're not just purchasing a card. You're acquiring a tangible slice of sports history, a tribute to one of the greatest players the game has ever seen. With the Michael Jordan Fleer '93-'94 League Leader Card in your collection, you'll own a piece of the legacy that changed the basketball landscape forever.
#9. 1998 SP Authentic Sign Of Times Gold Die-Cut: A Golden Tribute to Michael Jordan's Legacy"
The 1998 SP Authentic Sign of the Times Gold Die-Cut card holds a special place in basketball memorabilia. Sold for an impressive $27,078 in February 2019, it's one of the earliest cards to feature an on-card autograph from the legendary Michael Jordan.
But what sets this card apart is its rarity. While there were silver and bronze variations, they didn't quite match the allure of the gold. This particular gold variation stands out not only for its scarcity but also for its exceptional quality. With a Beckett Grading Services (BGS) designation of 9.5 Gem Mint (PSA 10 Grade) and equally high sub-grades, it's a testament to the impeccable condition of this card.
More than just a collector's piece, the 1998 SP Authentic Sign of the Times Gold Die-Cut card is a golden representation of one of Jordan's earliest autograph cards. It's a tangible tribute to the enduring legacy of one of basketball's greatest icons.
#10. 1985 Michael Jordan Prism Jewel Stickers Card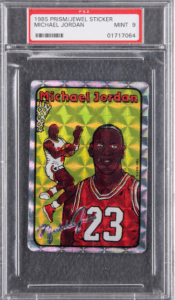 The 1985 Prism Jewel Sticker Card is one of Michael Jordan's most valuable. It stands out due to its distinctive nature. The sticker shows a drawn image of Jordan flying high for a reverse dunk. It's a sticker and a dynamic visual experience of Jordan's athletic prowess.
Unlike other cards, the Prism Jewels were sold from vending machines stationed in storefronts until they sold out. Finding one right now is like stumbling upon a hidden treasure. In September 2016, one sold for $25,600.
For the fortunate ones who have these rare stickers in good shape, they're holding an item equal to over $25,000. In their possession is a valuable piece of memorabilia that reflects the awe-inspiring talent of Michael Jordan. It's one thing to hold dear.
Popular Michael Jordan Basketball Cards on eBay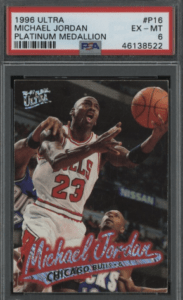 1985 Star All-Rookie Team Basketball Michael Jordan Rookie Card #2
1997 High Voltage Michael Jordan No Number
1986 Fleer Basketball Michael Jordan #57
1998 Metal Universe Michael Jordan No Number
1996 Fleer Ultra Platinum Medallion Michael Jordan #P16
Final Thoughts Regarding Michael Jordan Basketball Cards
Michael Jordan's legacy is unrivaled. He was inducted into the Hall of Fame in 2009, proving he's one of the greatest. His fans worldwide go the extra mile to hold something he ever touched and hold it close to their hearts. MJ's autographed cards and highly valued collectibles are considered super valuable.
So, whether you are a casual fan or a seasoned collector trying to get hold of one of these cards, it's not just a hobby but also a tribute to a legend. So, why not embark on a trip of a lifetime to find one or as many cards as these? Immerse yourself into the history of one of the most iconic basketball stars.
Investing in a Michael Jordan basketball card is a worthwhile alternative investment as they have received double digits returns over the last ten years. Always buy PSA 10, PSA 9, BGS 10, BGS 9.5, or SGC 10 graded cards. Purchasing a non-graded MJ card is a risk that often does not pay off.
Our top two cards regarding investing in MJ cards are as follows; the 1986 Fleer Rookie Card #57 and the 1985 Nike Promo Basketball Michael Jordan RC.