Lebron James basketball rookie cards are one of the top investments in the hobby as he is one of the most iconic basketball players of all time and has an extremely loyal fanbase.
Some of his most popular cards have caused high-end collectors to pay millions of dollars at auctions, i.e., the 2003-04 LeBron James Upper Deck rookie card sold for $1.845 million at Goldin Auctions in July of 2020. A year later, this card sold for a record-breaking $5.2 million in a PWCC private sale.
As you can see, LeBron James basketball rookie cards are big money. Here we will look at his top five cards, but first, let's look at his career accomplishments.
LeBron James
Since entering the league in 2003, James has been selected to thirteen NBA All-Star teams, twelve All-NBA teams, six All-Defensive teams, four NBA MVP awards, three NBA Finals MVP awards, two Olympic gold medals, and four NBA championships.
Recognized for his all-around offensive and defensive game, James is considered one of the most complete players in NBA history. He plays for the Los Angeles Lakers with fellow superstar Anthony Davis. These two have had a hot and cold relationship over the years, but hopefully, they can work it out for one last championship run.
Rookie Year Stats
As an 18-year-old rookie phenom, he immediately impacted the league, averaging a mind-blowing 20.9 points, 5.5 rebounds, and 5.9 assists per game while leading the Cleveland Cavaliers to the playoffs for the first time since 1998.
47.2%  (field)
35.6% (three-point range)
1.6 steals
0.7 blocks
5.5 rebounds
Off The Court
James has also had tremendous success off the court. In 2020, he launched his own production company, SpringHill Entertainment, which has since produced various critically acclaimed television programs and documentaries. He owns several businesses, including Blaze Pizza (average pizza at best, in our opinion), Liverpool Football Club, and Uninterrupted.
He is also a noted philanthropist who has provided educational opportunities to underprivileged children in his hometown of Akron, Ohio. He was instrumental in establishing the I Promise School, an elementary school focused on providing education and support for at-risk youth in Akron.
Top Cards
Unlike most "best rookie card lists," we rank ours in terms of what matters most, return on investment. Please send any questions to [email protected] or visit the CardBoardNerds Facebook page.
1. 2003-04 Topps Chrome #111 (Top ROI)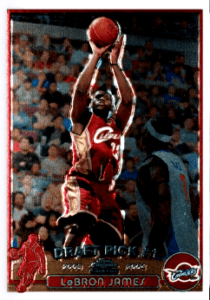 The 2003-04 Topps Chrome LeBron James Rookie Card is among the most coveted basketball cards. This card features a classic image of James taking a jump shoot in his away Cleveland Cavaliers jersey.
His name is centered at the bottom of the card, along with the words "Draft Pick #1". The chrome finish gives the card a unique look that stands out from other cards in the set and makes it even more desirable. It is an excellent investment for collectors and a beautiful representation of the start of LeBron's legendary career.
Parallel Cards & Odds
Refractors (Base – 1:4 packs; RC – 1:12 packs)
Black Refractors /500
X-Fractors /220
Gold Refractors /99
RC – /50)
Printing Plates 1/1
2. 2003-04 Topps RC #221 (best for the average collector)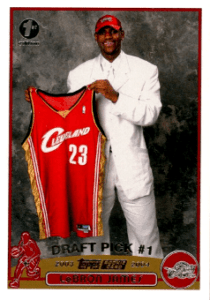 The 2003-04 Topps LeBron James rookie card is number two on our list. This LeBron card has been a hot commodity since its release in late 2003 and is a must for LeBron James collectors.
Numbered #221, it is highly sought after by novice collectors and experienced investors, making it a superior investment. The card features an iconic image of a young LeBron James, capturing him in his rookie season, holding up the red Cleveland Cavaliers uniform. His name, Topps, and Draft Pick #1 are centered at the bottom with a gold gloss finish.
It is one of the most recognizable LeBron James basketball cards ever produced and is an ideal investment for collectors not looking to spend millions on a LeBron rookie card. It may not be the top James RC regarding ROI but a close second. Buy this card at a PSA 9 or PSA 10 grade.
3. 2003-04 Fleer Ultra Lucky 13 /500 #171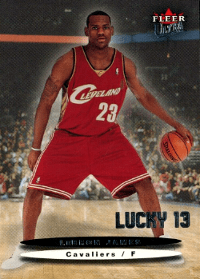 The 2003-04 Fleer Ultra LeBron James "Lucky 13" Rookie Card is another rare and valuable collector option. This card was released as part of the "Gold Medallion" subset and features a unique design with gold accents. The card was limited to 500 copies, adding to its rarity and collectability.
Numbered #171, this rare card features an action shot of Lebron dribbling the ball between his legs while mean-mugging for the camera. The card features a unique design with a bold foil finish with the wording "LUCKY 13". His name, team, and position are all centered in small print at the bottom of the card.
The 2003 Fleer Ultra Lebron James card is an excellent addition to any basketball collection, and it has become increasingly valuable over time. The card comes in a base version without the wording "LUCKY 13" which will cost less and is widely available, both are great sports card investments.
4. 2003-04 SP Authentic Rookie Authentics /500 #148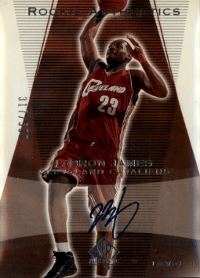 The 2003 LeBron James SP Authentic Rookie Authentics / 500 is a highly sought-after trading card for LeBron fans and a great addition to any high-end sports memorabilia collection.
Released in 2003, this rare card features LeBron James' dunking the rock with his autograph placed towards the bottom of the card. Only 500 of these bad boys were produced, making it elusive and extremely valuable at high grades. Collectors will have difficulty getting their hands on this rare card as it's rarely up for auction. However, if you are willing to overpay some, eBay usually has a few up for buy now.
With its bold design and limited availability, the 2003 LeBron James SP Authentic Rookie Authentics / 500 is one of our favorite LeBron trading cards.
5. 2003-04 Upper Deck Exquisite Rookie Patch Autograph #78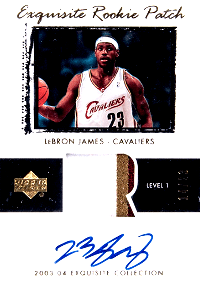 The 2004-05 Upper Deck Exquisite Collection LeBron James Rookie Card is another highly sought-after card selling for a mind-bending $5.2 million when it was last auctioned off. His future retirement and eventual induction into the Hall of Fame are future events that can still increase its value in the coming years.
Numbered #78, it features a unique design with crisp, gold foil accents, which adds to its appeal and collectability. The card also includes autographs and memorabilia pieces, making it more desirable for collectors.
Obviously, the 2004-05 Upper Deck Exquisite Collection LeBron James Rookie Card is not for the average joe but a must for alternative investors with millions to spend.
Most Valuable
LeBron is a living legend, simply put.
His impact on the game and dedication to excellence have earned him many a legion of fans and plenty of accolades.
With that in mind, it is no surprise that some of LeBron's trading cards have become some of the most valuable basketball cards ever sold.
Below are the three most expensive LeBron James rookie cards to sell at auction.
2003 Upper Deck Exquisite Collection RPA Parallel #78
2004 Upper Deck Ultimate Collection Logoman patch auto #USLLJ
2003 Topps Chrome Black Refractor RC #111
Best Way To Protect/Store Cards
LeBron James basketball cards are too valuable just to let sit around your house. Please take appropriate actions to store and protect these expensive cards safely.
From using protective sleeves to creating an ideal storage environment, several steps can be taken to ensure your baseball cards remain in excellent condition for years.
Protective Grading Sleeves: One of the best ways to protect your LeBron cards is to use protective sleeves. These sleeves are made from high-quality plastic and fit snuggly over the top of any PSA, BGS, or SGC card holder. We recommend visiting eBay or Amazon and searching for tight-fit PSA sleeves.
Storage Environment: Creating an ideal storage environment for your LeBron James rookie cards is also essential. Make sure you store them in a cool, dry place away from direct sunlight and other sources of heat or moisture. Using acid-free boxes to store your cards is also beneficial, as these will help protect against oxidation and discoloration over time. Purchase a safe for home storage or consider a lock box at your local bank.
Handling: Use white or black gloves or some other form of protection when handling super expensive PSA or BGS-graded LeBron cards. Again search eBay or Amazon.
Final Rating
Lebron James is one of the biggest sports stars in the world. He is a four-time NBA MVP, three-time NBA champion, and 14-time All-Star. His name stands with fellow GOATS Tiger Woods, Michael Jordan, Wayne Gretzky, and Tom Brady.
If you don't already own one of the LeBron James rookie cards shown above, now is the time to change that. His card are truly one of the best long-term investments in the hobby and should only grow in value with age.
Rating: 9.9 out of 10
Similar Players/Rookie Cards: Michael Jordan Fleer RC, Kobe Topps Chrome RC
Investment Disclosure: 2003 Topps Chrome PSA 10 x2