2022 Topps Allen & Ginter Chrome Baseball is the latest release from Topps, bringing a whole new level of excitement to the hobby. This set features some of the most exciting designs for baseball card collectors, including stunning chromium finishes on many cards and plenty of unique inserts. With base sets featuring some of Major League Baseball's brightest stars, this is one release that collectors won't want to miss.
The base set consists of 300 cards featuring a selection of current and retired stars from all 30 teams in Major League Baseball. As with other Allen Ginter baseball sets, each card has a bright, colorful design with a unique theme. Plus, several parallels help you build your collection.
Trending: 2022 Bowman Chrome Sapphire Edition Baseball Checklist 
REFRACTOR PARALLELS
Refractor (1:3)
Magenta Refractor #/199 (1:14)
Blue #/150 (1:18)
Green #/99 (1:28)
Gold #/50 (1:54)
Orange #/25 (1:108)
X-Fractor (1:216)
Red #/5 (1:535)
SuperFractor 1/1 (1:2,639)
In addition to the base set, there are several inserts and unique cards. These include autographs, commemorative relics, and limited-edition 1/1 cards. Topps has also included a variety of other unique cards, such as sketch cards and mini-prints. All of these inserts will make your collection stand out from the crowd.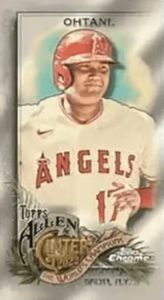 The Topps Allen Ginter Chrome Baseball is back for 2022 set features some of the greatest players in the league, as well as a variety of inserts and special cards. Whether you're a hardcore collector or just starting, this set has something for everyone. Read on to learn more about what makes this set so special and how you can get your hands on some of the most sought-after cards.
Key Rookie Cards
#91 Wander Franco – TB Rays RC
#122 Oneil Cruz – Pittsburgh Pirates RC
#179 Josiah Gray – Washington Nationals RC
#208 Spencer Torkelson – Detroit Tigers RC
#209 Hunter Greene – Cincinnati Reds RC
#250 Bobby Witt Jr. – Kansas City Royals RC
#269 Julio Rodriguez – Seattle Mariners RC
#293 Nick Lodolo – Cincinnati Reds RC
Base Checklist
1 Yadier Molina – St. Louis Cardinals
2 Luis Robert – Chicago White Sox
3 Ernie Banks – Chicago Cubs
4 Nolan Arenado – St. Louis Cardinals
5 Reggie Jackson – Oakland Athletics
6 Jacob deGrom – New York Mets
7 Shane Baz – Tampa Bay Rays RC
8 Alex Bregman – Houston Astros
9 Frank Thomas – Chicago White Sox
10 Josh Donaldson – New York Yankees
11 Aaron Judge – New York Yankees
12 Rickey Henderson – Oakland Athletics
13 Giancarlo Stanton – New York Yankees
14 Ronald Acuña Jr. – Atlanta Braves
15 Fernando Tatis Jr. – San Diego Padres
16 Bryce Harper – Philadelphia Phillies
17 George Brett – Kansas City Royals
18 Freddie Freeman – Los Angeles Dodgers
19 Ivan Rodriguez – Texas Rangers
20 Stephen Strasburg – Washington Nationals
21 Pedro Martinez – Boston Red Sox
22 Mariano Rivera – New York Yankees
23 Larry Walker – Colorado Rockies
24 Kris Bryant – Colorado Rockies
25 Paul Goldschmidt – St. Louis Cardinals
26 Lou Gehrig – New York Yankees
27 Walker Buehler – Los Angeles Dodgers
28 Whit Merrifield – Toronto Blue Jays
29 Pete Alonso – New York Mets
30 Joey Votto – Cincinnati Reds
31 Corbin Burnes – Milwaukee Brewers
32 Bo Bichette – Toronto Blue Jays
33 Thurman Munson – New York Yankees
34 Francisco Lindor – New York Mets
35 Mike Trout – Los Angeles Angels
36 Jarred Kelenic – Seattle Mariners
37 Yoan Moncada – Chicago White Sox
38 Johnny Bench – Cincinnati Reds
39 Ken Griffey Jr. – Seattle Mariners
40 Greg Maddux – Chicago Cubs
41 Mike Schmidt – Philadelphia Phillies
42 Babe Ruth – New York Yankees
43 Xander Bogaerts – Boston Red Sox
44 Eddie Murray – Baltimore Orioles
45 Hank Aaron – Atlanta Braves
46 Rafael Devers – Boston Red Sox
47 Yonny Hernandez – Arizona Diamondbacks RC
48 Jazz Chisholm Jr. – Miami Marlins
49 Mookie Betts – Los Angeles Dodgers
50 Todd Helton – Colorado Rockies
51 Justin Verlander – Houston Astros
52 Brandon Crawford – San Francisco Giants
53 Albert Pujols – St. Louis Cardinals
54 Roberto Clemente – Pittsburgh Pirates
55 Blake Snell – San Diego Padres
56 Anthony Rizzo – New York Yankees
57 Matt Olson – Atlanta Braves
58 Shohei Ohtani – Los Angeles Angels
59 Al Kaline – Detroit Tigers
60 Harmon Killebrew – Minnesota Twins
61 Adrian Beltre – Texas Rangers
62 Ke'Bryan Hayes – Pittsburgh Pirates
63 Willie Stargell – Pittsburgh Pirates
64 Willie Mays – San Francisco Giants
65 Rhys Hoskins – Philadelphia Phillies
66 Ichiro – Seattle Mariners
67 Byron Buxton – Minnesota Twins
68 Cal Ripken Jr. – Baltimore Orioles
69 Cedric Mullins – Baltimore Orioles
70 Ryne Sandberg – Chicago Cubs
71 Bryan De La Cruz – Miami Marlins RC
72 Mitch Haniger – Seattle Mariners
73 Shane Bieber – Cleveland Guardians
74 Christian Yelich – Milwaukee Brewers
75 Eloy Jimenez – Chicago White Sox
76 Randy Arozarena – Tampa Bay Rays
77 Buster Posey – San Francisco Giants
78 Randy Johnson – Arizona Diamondbacks
79 Gerrit Cole – New York Yankees
80 Hank Greenberg – Detroit Tigers
81 Nick Castellanos – Philadelphia Phillies
82 David Ortiz – Boston Red Sox
83 Manny Machado – San Diego Padres
84 Willson Contreras – Chicago Cubs
85 Clayton Kershaw – Los Angeles Dodgers
86 Juan Soto – San Diego Padres
87 Jose Ramirez – Cleveland Guardians
88 Anthony Rendon – Los Angeles Angels
89 Robin Yount – Milwaukee Brewers
90 Javier Baez – Detroit Tigers
91 Wander Franco – Tampa Bay Rays RC
92 Ketel Marte – Arizona Diamondbacks
93 Nolan Ryan – California Angels
94 Kirby Puckett – Minnesota Twins
95 Ted Williams – Boston Red Sox
96 Jose Altuve – Houston Astros
97 Vladimir Guerrero Jr. – Toronto Blue Jays
98 Miguel Cabrera – Detroit Tigers
99 Salvador Perez – Kansas City Royals
100 Hyun-Jin Ryu – Toronto Blue Jays
101 Steve Carlton – Philadelphia Phillies
102 Mark McGwire – St. Louis Cardinals
103 Yuli Gurriel – Houston Astros
104 Roger Clemens – New York Yankees
105 Andrew McCutchen – Milwaukee Brewers
106 Alex Rodriguez – Seattle Mariners
107 Lou Brock – St. Louis Cardinals
108 Jackie Robinson – Brooklyn Dodgers
109 Mel Ott – New York Giants
110 Jarren Duran – Boston Red Sox RC
111 Teoscar Hernandez – Toronto Blue Jays
112 Vladimir Guerrero – Montréal Expos
113 Ozzie Albies – Atlanta Braves
114 Yogi Berra – New York Yankees
115 Trea Turner – Los Angeles Dodgers
116 Andre Dawson – Montréal Expos
117 Carlos Correa – Minnesota Twins
118 Trevor Story – Boston Red Sox
119 Corey Seager – Texas Rangers
120 Yordan Alvarez – Houston Astros
121 Max Muncy – Los Angeles Dodgers
122 Oneil Cruz – Pittsburgh Pirates RC
123 Roy Campanella – Brooklyn Dodgers
124 Cody Bellinger – Los Angeles Dodgers
125 Gleyber Torres – New York Yankees
126 Tom Seaver – New York Mets
127 Edgar Martinez – Seattle Mariners
128 Dick Allen – Chicago White Sox
129 Willie McCovey – San Francisco Giants
130 Willy Adames – Milwaukee Brewers
131 Kyle Schwarber – Philadelphia Phillies
132 Max Scherzer – New York Mets
133 Barry Larkin – Cincinnati Reds
134 Brandon Lowe – Tampa Bay Rays
135 Austin Riley – Atlanta Braves
136 Dave Winfield – Minnesota Twins
137 Jeremy Pena – Houston Astros RC
138 Tony Gwynn – San Diego Padres
139 Brooks Robinson – Baltimore Orioles
140 Joe Morgan – Cincinnati Reds
141 Hideki Matsui – New York Yankees
142 Frank Robinson – Cincinnati Reds
143 Tim Anderson – Chicago White Sox
144 Carl Yastrzemski – Boston Red Sox
145 Rod Carew – Minnesota Twins
146 Derek Jeter – New York Yankees
147 Mike Piazza – New York Mets
148 Matt Chapman – Toronto Blue Jays
149 Sammy Sosa – Chicago Cubs
150 Chipper Jones – Atlanta Braves
151 Jared Walsh – Los Angeles Angels
152 Drew Ellis – Arizona Diamondbacks RC
153 Starling Marte – New York Mets
154 Duke Snider – Brooklyn Dodgers
155 German Marquez – Colorado Rockies
156 Marcus Stroman – Chicago Cubs
157 Emmanuel Rivera – Arizona Diamondbacks RC
158 Tony Santillan – Cincinnati Reds RC
159 TJ Friedl – Cincinnati Reds RC
160 Aaron Nola – Philadelphia Phillies
161 Yu Darvish – San Diego Padres
162 Seth Beer – Arizona Diamondbacks RC
163 Joe Mauer – Minnesota Twins
164 DJ LeMahieu – New York Yankees
165 Tony Oliva – Minnesota Twins
166 J.D. Martinez – Boston Red Sox
167 Luis Castillo – Seattle Mariners
168 Matt Vierling – Philadelphia Phillies RC
169 Jonathan Taylor
170 Joe Ryan – Minnesota Twins RC
171 Jack Flaherty – St. Louis Cardinals
172 Ernie Clement – Cleveland Guardians RC
173 Brandon Marsh – Philadelphia Phillies RC
174 Aaron Ashby – Milwaukee Brewers RC
175 Jack Suwinski – Pittsburgh Pirates RC
176 J.J. Matijevic – Houston Astros RC
177 Vidal Brujan – Tampa Bay Rays RC
178 Cal Raleigh – Seattle Mariners RC
179 Josiah Gray – Washington Nationals RC
180 Will Smith – Los Angeles Dodgers
181 Manny Ramirez – Boston Red Sox
182 Jonathan India – Cincinnati Reds
183 Jesus Luzardo – Miami Marlins
184 Landon Donovan
185 Matt Manning – Detroit Tigers RC
186 Alex Verdugo – Boston Red Sox
187 Amos Otis – Kansas City Royals
188 Ron Santo – Chicago Cubs
189 Rob Riggle
190 Lorenzo Cain – Milwaukee Brewers
191 Luis Gil – New York Yankees RC
192 Bill Mazeroski – Pittsburgh Pirates
193 Robbie Ray – Seattle Mariners
194 Rad Lopez
195 Gavin Sheets – Chicago White Sox RC
196 Josh Lowe – Tampa Bay Rays RC
197 Colton Welker – San Francisco Giants RC
198 Marcus Semien – Texas Rangers
199 Ryan Mountcastle – Baltimore Orioles
200 Paul Konerko – Chicago White Sox
201 Blake Jamieson
202 Morgan Murphy
203 MacKenzie Gore – Washington Nationals RC
204 Kyle Tucker – Houston Astros
205 Adam Wainwright – St. Louis Cardinals
206 Benny Horowitz
207 Kendall Toole
208 Spencer Torkelson – Detroit Tigers RC
209 Hunter Greene – Cincinnati Reds RC
210 Jared Hart
211 Blake Grice
212 Otto Lopez – Toronto Blue Jays RC
213 Rachel Balkovec
214 John Shuster
215 Roger Maris – New York Yankees
216 Charlie Sheen
217 Bryan Reynolds – Pittsburgh Pirates
218 CJ Abrams – Washington Nationals RC
219 Jeremiah Paprocki – Chicago Cubs
220 Andrew Benintendi – New York Yankees
221 Nick Allen – Oakland Athletics RC
222 Bradley Beal
223 Ronny Chieng
224 Richie Palacios – Cleveland Guardians RC
225 Joe West
226 Brendan Donovan – St. Louis Cardinals RC
227 Neal Moore
228 Steven Kwan – Cleveland Guardians RC
229 Scott Hanson
230 Max Fried – Atlanta Braves
231 Chris Plys
232 Jim Thome – Philadelphia Phillies
233 Sam Mewis
234 George Springer – Toronto Blue Jays
235 Seiya Suzuki – Chicago Cubs RC
236 Charlie Blackmon – Colorado Rockies
237 Noah Syndergaard – Philadelphia Phillies
238 Juan Yepez – St. Louis Cardinals RC
239 Brandon Woodruff – Milwaukee Brewers
240 Sean Murphy – Oakland Athletics
241 Bob Feller – Cleveland
242 B-Real
243 Eddie Mathews – Milwaukee Braves
244 Lance McCullers Jr. – Houston Astros
245 Jhoan Duran – Minnesota Twins RC
246 Tyler O'Neill – St. Louis Cardinals
247 Martin Sheen
248 Charlotte North
249 Drew Rosenhaus
250 Bobby Witt Jr. – Kansas City Royals RC
251 Gabriel Arias – Cleveland Guardians RC
252 Tom Glavine – Atlanta Braves
253 Trey Mancini – Houston Astros
254 Kate Brownell
255 Sen Dog
256 Bryson Stott – Philadelphia Phillies RC
257 Jose Miranda – Minnesota Twins RC
258 Malika Andrews
259 Ethan Roberts – Chicago Cubs RC
260 Austin Meadows – Detroit Tigers
261 Dave Hause
262 Davey Cuts
263 Royce Lewis – Minnesota Twins RC
264 MJ Melendez – Kansas City Royals RC
265 John Osborne
266 T.J. Osborne
267 Alyssa Naeher
268 C.J. Cron – Colorado Rockies
269 Julio Rodriguez – Seattle Mariners RC
270 Adolis Garcia – Texas Rangers
271 Eric Bobo
272 Chris Sale – Boston Red Sox
273 Monte Irvin – New York Giants
274 Ian Grushka
275 Tim Hause
276 DJ Muggs
277 Diego Castillo – Pittsburgh Pirates RC
278 Jake Cronenworth – San Diego Padres
279 Larry Doby – Cleveland
280 Heliot Ramos – San Francisco Giants RC
281 Charlie Berens
282 Mark Duplass
283 Field Yates
284 Stephen Dubner
285 Michelle Wie West
286 Jose Berrios – Toronto Blue Jays
287 Honus Wagner – Pittsburgh Pirates
288 Danny Glover
289 Alek Thomas – Arizona Diamondbacks RC
290 John Landsteiner
291 Rodney Scott
292 Jason Ellis
293 Nick Lodolo – Cincinnati Reds RC
294 Josh Winder – Minnesota Twins RC
295 Ariel Torres
296 Jose Siri – Tampa Bay Rays RC
297 Matt Hamilton
298 Luke Wessman
299 Julio Urias – Los Angeles Dodgers
300 Lucius Fox – Washington Nationals RC