If you haven't invested in C.J. Stroud rookie cards, now is the time to correct your error. This article will discuss the best C.J. Stroud football cards and his most expensive.
Who in the world is C.J. Stroud?
Unless you have lived under a rock for the past few months, you have heard about the Houston Texans rookie phenom C.J. Stroud. Mr. Stroud has brought the heat to opposing defenses and is not taking any prisoners.
Stroud was a highly regarded quarterback recruit from Rancho Cucamonga, California, and played college football for the Ohio State Buckeyes. The Texans drafted the phenom with the 2nd overall pick in the 2023 NFL Draft (Bryce Young was drafted number one by the Carolina Panthers).
Shop Our Top CJ Stroud Rookie Cards on eBay
What makes him an elite QB?
Arm Strength: Like any QB worth his weight, Stroud possesses tremendous arm strength and can make all the necessary throws on the football field. He can deliver deep passes with accuracy and velocity, which is crucial in a pro-style offense.
Accuracy: Arm strength is meaningless unless you can put the ball on a dime, and Stroud has proven his accuracy on short, intermediate, and deep throws.
Mobility: While not known for his scrambling ability, Stroud showed decent mobility and the ability to make plays with his legs when necessary. He wasn't a dual-threat quarterback but had enough mobility to extend plays and keep defenses aware of his feet.
Football IQ: One of his most overlooked strengths. Stroud competes to win and is not playing video games instead of breaking down film. He has shown the ability to recognize coverages and adjust accordingly early in his career.
Pocket Presence: He demonstrated solid poise in the pocket, often remaining calm under pressure. He goes through his progressions and makes decisions under duress.
TOP 6 CJ Stroud Football Cards
Below are our top picks. Please note this list will be updated throughout the season as more cards are released. If you would like an estimated value of your C.J. Stroud football rookie card, please email [email protected].
2023 CJ Stroud Prizm Draft Picks Silver #102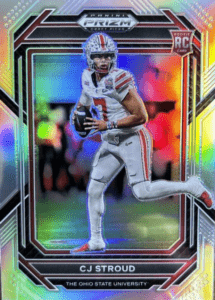 The CJ Stroud 2023 Prizm Draft Picks Silver rookie card is numbered #102 and features Stroud rolling to his right while scanning for a receiver downfield.
This card should not only have a reasonable price tag but will have one of the top ROI's moving forward out of all the cards on this list (until new Stround rookie cards are released). This card also comes in a variety of parallels.
2023 Panini Mosaic C.J. Stroud Rookie Micro Mosaic RC Houston Texans SSP #MM2
A piece of art or a football card? Either way, this is a must-have Stroud rookie card, but it won't come cheap. Look for this card in a PSA 10 or PSA 9 grade.
2023 CJ Stroud Panini Instant RPS First Look Rookie Auto /391 #42
Only 391 of these cards were printed and finding one in a PSA 10 grade is difficult. If you are fortunate to find a 10 be prepared to pay as it is his most expensive card released to date but should also pay huge profits down the road.
2023 CJ Stroud Panini National Silver Packs #2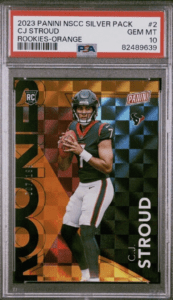 Another tremendous C.J. Stourd rookie card that looks great and should have a solid ROI over the next decade. In our opinion, the best Stroud rookie cards with a PSA 10 grade will outperform a random stock on the S&P 500 over the next 5 to 10 years. That is how much we love this kid.
The 2023 CJ Stroud Prizm Draft Picks Silver #102 features a ton of parallels. If you have this card and want to sell, please DM the Cardboard Nerds Facebook page, and we can try to work out a deal.
2023 CJ Stroud Panini Black Vanta Case Hit SSP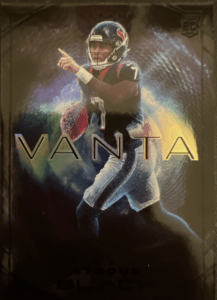 The words "black" and "vanta" sound like it should be an expensive card. And then when you toss the NFL phenom CJ Stroud's name into the mix, you have a winner-winner chicken dinner.
The only problem? Getting your hands on one. The 2023 CJ Stroud Panini Black Vanta SSP rookie card is scarce as only a few have been listed on eBay.
Numbered #V-8 this Stroud football card has CJ decked out in his Texans Deep Steel Blue jersey which matches the card design to a tee. CJ calmly but cooly attempts to direct his wide receiver in which direction he should go. Stroud is the definition of poise under fire while excelling. Take whatever means are necessary to acquire this stunning football card.
2023 CJ Stroud Panini National VIP #RC2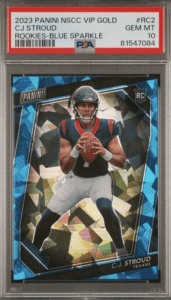 Finally but by no means last is the 2023 CJ Stroud Panini National VIP football card. Like many cards on this list, it is available in various apparel and should have an excellent ROI.
We strongly recommend any card on this list and will only be adding new rookie cards to this list but will not be removing any. Consider this card in s PSA 10 or BGS 9.5.
Find Him on Social Media
C.J. Stroud RC Checklist
2023 Panini Black Vanta Case Hit SSP
2023 CJ Stroud Prizm Draft Picks Silver #102
Most Expensive C.J. Stroud Rookie Card?
The most valuable C.J. Stroud football card sold is his 2023 Panini Instant RPS First Look Rookie Autogragh /391 with a PSA 10 grade. The card is numbered #42 and sold for a mind-blowing $2,275.00 on 10/15/2020 via eBay auctions.  The card was sold by 225 Breakers and had 55 bids.
Bottom Line/Recommendation
LOAD THE F UP.
In our opinion, this kid will be a beast in year one and win an SB ring or two to match a league MVP. Not only should he easily win Rookie of the Year, but he should do wonders for the overall Texans franchise. Stroud is precisely what the Doctor ordered for Houston Texans fans.
Ownership disclosure:

1x

2023 CJ Stroud Panini Instant RPS First Look Rookie Auto /391 #42 PSA 10 | 3x 2023 CJ Stroud Prizm Draft Picks Silver #102 PSA 10
Long-Term rating: 9.88 out of 10
Another player we feel the same way about?
Check out: Ranking The Top 5 Victor Wembanyama Rookie Cards To Date