Here are our top ten picks for the 2023-23 NFL season. Please email comments or questions to [email protected].
Best NFL Rookie Cards To Invest In 2023
To clarify, this is not the best rookies in 2023 but the best rookie cards, which means it can include NFL veterans.
#1. 2020 Tua Tagovailoa Prizm Rookie 339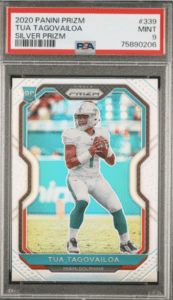 I'll be honest here. I thought Tua was a bust and Miami would be a joke. Not only was I wrong, but I couldn't have been more wrong, like embarrassing wrong.
I just purchased a dozen 2020 Prizm Hobby boxes, hoping to pull a Tua, Herbet, Burrow, or Hurts RC. The 2020 Prizm football set may go down in history as one of the best of all time, and Tua could be Super Bowl-bound in 2023.
#2. 2020 Justin Herbert Prizm Rookie 325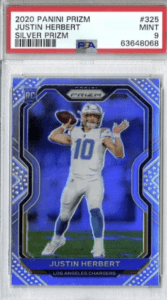 Herbert is a different story. I was on him from day one, and he has not been a disappointment but hasn't hit that elite QB title.
This will change in 2023, and the Chargers will make a deep run in the 2023 playoffs. Even if they don't, Herbert will have huge numbers.
#3. 2023 Devon Achane Any Panini Rookie Card
Boom goes the dynamite!
Achane exploded onto the scene in week 3 of the 2023 NFL season, and I love his potential in this Miami offense. I would not be surprised to see him as the number one back in Miami by the season's end.
#4. 2022 Brock Purdy Prizm Rookie 353
One of the most underrated QBs in the league. Yes, he is the QB under the top offensive mind in the game, but don't overlook this kid. I see him winning many playoff games in San Fran over the next few years.
#5. 2020 Joe Burrow Contenders Rookie 101
Burrow's rough start in 2023 is good news for sports card buyers as it means you can purchase his cards much cheaper than they would have assumed an excellent start. He is, without a doubt, an elite QB and will be for years. Buy his Prizm RC whenever his play on the field dips over a few weeks, and his card prices go down.
#6. 2016 Tyreek Hill Prizm Rookie 296
The fastest man in the NFL is one of the best offenses in the league and has one of the best young quarterbacks throwing him the pigskin. Hill is an excellent buy for the next three years.
#7. 2023 Anthony Richardson Mosaic Rookie
A buddy of mine told me to go all in on Richardson before the season.
My response? A soft chuckle.
I wish I had taken his advice, as he looks like the best QB in the 2023 class.
#8. 2023 Puka Nacua Mosiac or Prizm Rookie
I had never heard of this guy before I started researching this article. But he is on my radar now. We could see insane numbers from Nacua in the next couple of years, assuming he and McVay are on the same team.
#9. 2017 Christian McCaffrey Donruss Rated Rookie 318
It's obvious, but I won't pass up easy money. He is in a great system and has one hell of a work ethic. He will win the big one at some point and maybe even an SB MVP.
#10. 2016 Jared Goff Prizm Rookie 208
I love what the Detroit Lions have done. They are a fun team, and Goff is a constant professional. I bet the Rams could get Goff back now. Maybe a league MVP.
Final Thoughts
And there you go. I tried making a list of no-brainer players/cards to go with some not-so-obvious. I feel like buying a player's rookie card is similar to making a bet, and I love it.
Be sure to purchase PSA 10 or BGS 9.5 grades and never buy a single raw card i.e. not graded. Avoid PSA 9 and lower.
Also, buying hobby boxes is usually not a smart investment, but sometimes they can really pay off, and they are so fun to rip open.
Thoughts? Concerns? Jokes? Check out our socials: Cardboard Nerds, Facebook, and Twitter.