Walker Kessler has already established himself as a beast in just his first year. He will not win the ROY award as Paolo Banchero has that wrapped up, but he is worthy of the top three.
Walker Kessler was drafted by the Memphis Grizzlies with the 22nd pick in the 2022 NBA Draft. He made his NBA Debut on October 19, 2022, and started 70 of the 74 games he appeared in.
Trending: Top 10 Kobe Bryant Rookie Cards | 5 Greatest Lebron James Rookie Cards
Rookie Year Stats: 9.2 Points Per Game | 8.4 Total Rebounds Per Game | 0.9 Assist Per Game
Walker Ross Kessler can be found on social media if you want to add him.
Player Stats
Position: Center
Shoots: Right 7-1
Weight
Born: July 26, 2001 (Age: 21-318d)
Birthplace: Atlanta, GA
He played college basketball for the North Carolina Tar Heels and Auburn Tigers. He currently lights it up with the Utah Jazz in the NBA.
Awards
Kessler was named The Atlanta Journal-Constitution Player of the Year, Mr. Georgia Basketball and Georgia Gatorade Player of the Year. He was a McDonald's All-American selection. Kessler competed for Game Elite on the Amateur Athletic Union circuit.
Top Rookie Cards
2022 Walker Kessler Panini Prizm RC #234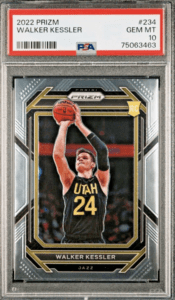 The Walker Kessler Panini Prizm rookie card is our top pick in terms of long-term ROI. His base Prizm rookie card is an obvious pick but some of the high-end parallels are solid picks as well (and have some insane colors).
Numbered #234 the Panini Prizm rookie card shows Kessler shooting a jumper while sporting the dark colored Utah Jazz jersey. He wears number 24 and usually is strapped with a arm sleeve on his left side. His name is centered at the bottom while the set name "Prizm" is prited at the top. This is the card for long term Kessler fan boys.
Walker Kessler Panini Prizm Parallels
Prizm Parallels: Blue Wave, Green, Green Ice, Green Wave, Hyper, Ice, Pink Ice, Pulsar, Red Ice, Red/White/Blue, Ruby Wave, Silver, White Sparkle, Red #/299, Blue #/199, Purple Ice #/149, Blue Ice #/125, Purple #/99, Red Power #/75, Orange Wave #/60, Orange #/49, Pink Pulsar #/42, Blue Shimmer FOTL #/35, Purple Pulsar #/35, Green Pulsar #/25, Mojo #/25, Gold #/10, Gold Shimmer FOTL #/10, Gold Wave #/10, Lucky Envelope #/8, Black Gold #/5, Green Shimmer FOTL #/5, Black 1/1.
Choice Prizm Parallels: Blue/Yellow/Green, Tiger Stripe, Red #/88, Blue #/49, Purple #/20, Green #/8, Nebula 1/1.
Fast Break Prizm Parallels: Base Fast Break, Blue #/150, Red #/100, Purple #/75, Pink #/50, Bronze #/20, Neon Green #/5.
Sparkle Prizm Parallels: Red, Blue #/144, Gold #/24, Green #/8.
2022 Walker Kessler Panini Contenders RC #3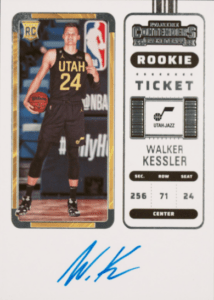 Autograph? Check.
Expensive at high grades? Check.
Available in variety of parallels? Check.
There's a lot to like about the 2022 Walker Kessler Contenders Rookie Card. Not only are Contenders a solid long-term investment but you can usually purchase them at a reasonable price if they are not graded. Then once you have the card send it into PSA and cross your fingers for a PSA 10 grade. If all goes well you card will be returned with a PSA 10 grade and you have just double your money.
Numbered #3 the Contenders rookie card shows Kessler standing tall in his dark colored Utah Jazz knit while looking smug as hell sporting those black long johns.
His name, team name, and set information are all printed on the right side of the card.
2022 Walker Kessler Donruss Rated Rookie #222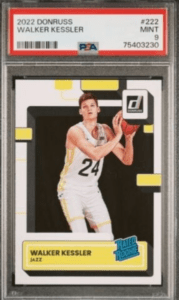 A superior Kessler rookie card for those looking to spend as little as possible but still see a solid ROI in the future.
Numbered#222 the Walker Kessler Donruss Rated Rookie Card can be had for less than $10 when not graded. We feel this card is undervalued due to its spectacular design and Walker Kessler's long-term value.
His name is placed at the bottom and the "Rated Rookie" icon is stamped at the bottom right corner of the card.
Walker Kessler Rookie Card Value
His most expensive rookie card sold to date is the 2022-23 Rookie Ticket Cracked Ice On Card Auto /25 SSP which sold for $3049 on April 13, 2023 via eBay auctions.
Bottom Line
We feel Walker Kessler rookie cards have a solid long-term value and can be purchased at current prices which are super low especially when the card is not graded.
Ownership Disclosure: (2) Prizm Base Rookie Cards
Best Card: Prizm Base RC
Long Term Outlook: B+