The wait is over as 2022 Donruss basketball hobby boxes are now available for purchase at eBay and all the other online card shops. Our biggest takeaway from the set is Donruss has dropped the relic from the expected output, offering one autograph per box.
To make matters worse, the 2022-23 NBA rookie crop of players isn't particularly impressive in our eyes, offering only one player who we genuinely love long-term from an investment standpoint.
When/What/Rating
Release Date: March 8, 2023
Hobby Configuration: 30 cards per pack | 10 packs per box | 10 boxes per case
Nerd Rating: 6.5 out of 10
Bottom Line: A down year for Donurss and basketball rookie cards. We won't buy boxes but may pick up some packs at Target or Walmart.
Related: 6 Tips when Buying Sports Cards at Target
Key Cards
Here we rank ten cards from the veteran and rookie card niches worth looking out for when ripping opening a 2022 Donruss basketball hobby box. We feel these ten players from each niche will have the best chance to provide a significant return by purchasing their cards.
Rookies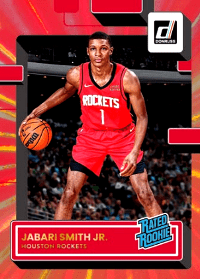 #201 Paolo Banchero
#206 Bennedict Mathurin
#203 Jabari Smith Jr.
#205 Jaden Ivey
#212 Jalen Williams
#204 Keegan Murray
#222 Walker Kessler
#213 Andrew Nembhard
#227 Nikola Jovic
#208 Dyson Daniels
Veterans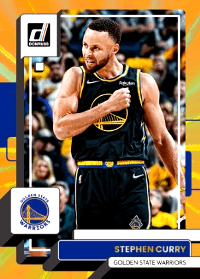 #143 Luka Doncic
#156 Ja Morant
#53 Giannis Antetokounmpo
#1 Jayson Tatum
#116 Stephen Curry
#164 Zion Williamson
#6 Kevin Durant
#7 Kyrie Irving
#59 Trae Young
#128 LeBron James
Base Checklist (200 cards)
Parallel Cards & Odds
Silver Press Proof
Yellow Flood
Purple Press Proof /199
Basketball /75
Choice Parallels
Dragon, Red #/99
Blue #/49
Gold #/10
Black Gold #/8
Black 1/1
Holo Laser Parallels
Green
Red/Gold
Base Holo Laser /149
Purple /99
Red /99
Pink /50
Blue /49
Light Blue /25
Yellow /25
Red/Blue /15
Gold /10
Black 1/1
1 Jayson Tatum – Boston Celtics
2 Jaylen Brown – Boston Celtics
3 Robert Williams III – Boston Celtics
4 Al Horford – Boston Celtics
5 Marcus Smart – Boston Celtics
6 Kevin Durant – Brooklyn Nets
7 Kyrie Irving – Brooklyn Nets
8 Cameron Thomas – Brooklyn Nets
9 Joe Harris – Brooklyn Nets
10 Seth Curry – Brooklyn Nets
11 Ben Simmons – Brooklyn Nets
12 Obi Toppin – New York Knicks
13 RJ Barrett – New York Knicks
14 Evan Fournier – New York Knicks
15 Jalen Brunson – New York Knicks
16 Cam Reddish – New York Knicks
17 Julius Randle – New York Knicks
18 Tyrese Maxey – Philadelphia 76ers
19 James Harden – Philadelphia 76ers
20 Tobias Harris – Philadelphia 76ers
21 Joel Embiid – Philadelphia 76ers
22 De'Anthony Melton – Philadelphia 76ers
23 Pascal Siakam – Toronto Raptors
24 Fred VanVleet – Toronto Raptors
25 Scottie Barnes – Toronto Raptors
26 OG Anunoby – Toronto Raptors
27 Armoni Brooks – Toronto Raptors
28 Gary Trent Jr. – Toronto Raptors
29 Lonzo Ball – Chicago Bulls
30 Zach LaVine – Chicago Bulls
31 DeMar DeRozan – Chicago Bulls
32 Nikola Vucevic – Chicago Bulls
33 Coby White – Chicago Bulls
34 Ayo Dosunmu – Chicago Bulls
35 Darius Garland – Cleveland Cavaliers
36 Evan Mobley – Cleveland Cavaliers
37 Caris LeVert – Cleveland Cavaliers
38 Collin Sexton – Utah Jazz
39 Isaac Okoro – Cleveland Cavaliers
40 Jarrett Allen – Cleveland Cavaliers
41 Cade Cunningham – Detroit Pistons
42 Saddiq Bey – Detroit Pistons
43 Marvin Bagley III – Detroit Pistons
44 Isaiah Stewart – Detroit Pistons
45 Hamidou Diallo – Detroit Pistons
46 Killian Hayes – Detroit Pistons
47 Tyrese Haliburton – Indiana Pacers
48 Chris Duarte – Indiana Pacers
49 Myles Turner – Indiana Pacers
50 Buddy Hield – Indiana Pacers
51 T.J. McConnell – Indiana Pacers
52 Isaiah Jackson – Indiana Pacers
53 Giannis Antetokounmpo – Milwaukee Bucks
54 Khris Middleton – Milwaukee Bucks
55 Jrue Holiday – Milwaukee Bucks
56 Bobby Portis – Milwaukee Bucks
57 Grayson Allen – Milwaukee Bucks
58 Pat Connaughton – Milwaukee Bucks
59 Trae Young – Atlanta Hawks
60 John Collins – Atlanta Hawks
61 Dejounte Murray – Atlanta Hawks
62 Justin Holiday – Atlanta Hawks
63 Bogdan Bogdanovic – Atlanta Hawks
64 De'Andre Hunter – Atlanta Hawks
65 Gordon Hayward – Charlotte Hornets
66 Terry Rozier III – Charlotte Hornets
67 LaMelo Ball – Charlotte Hornets
68 Kelly Oubre Jr. – Charlotte Hornets
69 Cody Martin – Charlotte Hornets
70 PJ Washington Jr. – Charlotte Hornets
71 Jimmy Butler – Miami Heat
72 Bam Adebayo – Miami Heat
73 Kyle Lowry – Miami Heat
74 Victor Oladipo – Miami Heat
75 Tyler Herro – Miami Heat
76 Caleb Martin – Miami Heat
77 Franz Wagner – Orlando Magic
78 Markelle Fultz – Orlando Magic
79 Wendell Carter Jr. – Orlando Magic
80 Gary Harris – Orlando Magic
81 Jalen Suggs – Orlando Magic
82 Cole Anthony – Orlando Magic
83 Bradley Beal – Washington Wizards
84 Kristaps Porzingis – Washington Wizards
85 Kyle Kuzma – Washington Wizards
86 Rui Hachimura – Washington Wizards
87 Corey Kispert – Washington Wizards
88 Will Barton – Washington Wizards
89 Nikola Jokic – Denver Nuggets
90 Jamal Murray – Denver Nuggets
91 Michael Porter Jr. – Denver Nuggets
92 Aaron Gordon – Denver Nuggets
93 Bones Hyland – Denver Nuggets
94 Rudy Gobert – Minnesota Timberwolves
95 Karl-Anthony Towns – Minnesota Timberwolves
96 Anthony Edwards – Minnesota Timberwolves
97 D'Angelo Russell – Minnesota Timberwolves
98 Jaden McDaniels – Minnesota Timberwolves
99 Jaylen Nowell – Minnesota Timberwolves
100 Shai Gilgeous-Alexander – Oklahoma City Thunder
101 Luguentz Dort – Oklahoma City Thunder
102 Josh Giddey – Oklahoma City Thunder
103 Tre Mann – Oklahoma City Thunder
104 Darius Bazley – Oklahoma City Thunder
105 Aleksej Pokusevski – Oklahoma City Thunder
106 Damian Lillard – Portland Trail Blazers
107 Anfernee Simons – Portland Trail Blazers
108 Jusuf Nurkic – Portland Trail Blazers
109 Josh Hart – Portland Trail Blazers
110 Gary Payton II – Portland Trail Blazers
111 Donovan Mitchell – Cleveland Cavaliers
112 Mike Conley – Utah Jazz
113 Jae Crowder – Phoenix Suns
114 Jordan Clarkson – Utah Jazz
115 Rudy Gay – Utah Jazz
116 Stephen Curry – Golden State Warriors
117 Klay Thompson – Golden State Warriors
118 Draymond Green – Golden State Warriors
119 James Wiseman – Golden State Warriors
120 Jordan Poole – Golden State Warriors
121 Andrew Wiggins – Golden State Warriors
122 Paul George – Los Angeles Clippers
123 Kawhi Leonard – Los Angeles Clippers
124 Norman Powell – Los Angeles Clippers
125 Terance Mann – Los Angeles Clippers
126 Luke Kennard – Los Angeles Clippers
127 Russell Westbrook – Los Angeles Lakers
128 LeBron James – Los Angeles Lakers
129 Anthony Davis – Los Angeles Lakers
130 Talen Horton-Tucker – Los Angeles Lakers
131 Kendrick Nunn – Los Angeles Lakers
132 Devin Booker – Phoenix Suns
133 Deandre Ayton – Phoenix Suns
134 Chris Paul – Phoenix Suns
135 Mikal Bridges – Phoenix Suns
136 Bojan Bogdanovic – Detroit Pistons
137 Cameron Johnson – Phoenix Suns
138 De'Aaron Fox – Sacramento Kings
139 Domantas Sabonis – Sacramento Kings
140 Harrison Barnes – Sacramento Kings
141 Malik Monk – Sacramento Kings
142 Davion Mitchell – Sacramento Kings
143 Luka Doncic – Dallas Mavericks
144 Spencer Dinwiddie – Dallas Mavericks
145 Christian Wood – Dallas Mavericks
146 Tim Hardaway Jr. – Dallas Mavericks
147 Dorian Finney-Smith – Dallas Mavericks
148 Davis Bertans – Dallas Mavericks
149 Eric Gordon – Houston Rockets
150 Jalen Green – Houston Rockets
151 Jae'Sean Tate – Houston Rockets
152 Kevin Porter Jr. – Houston Rockets
153 Alperen Sengun – Houston Rockets
154 Josh Christopher – Houston Rockets
155 Jaren Jackson Jr. – Memphis Grizzlies
156 Ja Morant – Memphis Grizzlies
157 Dillon Brooks – Memphis Grizzlies
158 Tyus Jones – Memphis Grizzlies
159 Danny Green – Memphis Grizzlies
160 Ziaire Williams – Memphis Grizzlies
161 CJ McCollum – New Orleans Pelicans
162 Brandon Ingram – New Orleans Pelicans
163 Jonas Valanciunas – New Orleans Pelicans
164 Zion Williamson – New Orleans Pelicans
165 Herbert Jones – New Orleans Pelicans
166 Devonte' Graham – New Orleans Pelicans
167 Doug McDermott – San Antonio Spurs
168 Josh Richardson – San Antonio Spurs
169 Keldon Johnson – San Antonio Spurs
170 Devin Vassell – San Antonio Spurs
171 Joshua Primo – San Antonio Spurs
172 Jakob Poeltl – San Antonio Spurs
173 Derrick White – Boston Celtics
174 Patty Mills – Brooklyn Nets
175 Immanuel Quickley – New York Knicks
176 Lauri Markkanen – Utah Jazz
177 Max Strus – Miami Heat
178 Deni Avdija – Washington Wizards
179 Jonathan Kuminga – Golden State Warriors
180 Moses Moody – Golden State Warriors
181 Marcus Morris Sr. – Los Angeles Clippers
182 Trey Lyles – Sacramento Kings
183 Reggie Bullock – Dallas Mavericks
184 Brandon Clarke – Memphis Grizzlies
185 Trey Murphy III – New Orleans Pelicans
186 Danilo Gallinari – Boston Celtics
187 Georges Niang – Philadelphia 76ers
188 Nassir Little – Portland Trail Blazers
189 Malcolm Brogdon – Boston Celtics
190 P.J. Tucker – Philadelphia 76ers
191 Kentavious Caldwell-Pope – Denver Nuggets
192 Jerami Grant – Portland Trail Blazers
193 Malik Beasley – Utah Jazz
194 John Wall – Los Angeles Clippers
195 Lonnie Walker IV – Los Angeles Lakers
196 Kevin Huerter – Sacramento Kings
197 Andre Drummond – Chicago Bulls
198 Joe Ingles – Milwaukee Bucks
199 Monte Morris – Washington Wizards
Base Rated Rookie Checklist (50 cards)
Parallel Cards & Odds
Silver Press Proof
Yellow Flood
Purple Press Proof /199
Basketball /75
Choice Parallels
Dragon, Red #/99
Blue #/49
Gold #/10
Black Gold #/8
Black 1/1
Holo Laser Parallels
Green
Red/Gold
Base Holo Laser /149
Purple /99
Red /99
Pink /50
Blue /49
Light Blue /25
Yellow /25
Red/Blue /15
Gold /10
Black 1/1
200 Bruce Brown – Denver Nuggets
201 Paolo Banchero – Orlando Magic
202 Chet Holmgren – Oklahoma City Thunder
203 Jabari Smith Jr. – Houston Rockets
204 Keegan Murray – Sacramento Kings
205 Jaden Ivey – Detroit Pistons
206 Bennedict Mathurin – Indiana Pacers
207 Shaedon Sharpe – Portland Trail Blazers
208 Dyson Daniels – New Orleans Pelicans
209 Jeremy Sochan – San Antonio Spurs
210 Johnny Davis – Washington Wizards
211 Ousmane Dieng – Oklahoma City Thunder
212 Jalen Williams – Oklahoma City Thunder
213 Jalen Duren – Detroit Pistons
214 Ochai Agbaji – Utah Jazz
215 Mark Williams – Charlotte Hornets
216 AJ Griffin – Atlanta Hawks
217 Tari Eason – Houston Rockets
218 Dalen Terry – Chicago Bulls
219 Jake LaRavia – Memphis Grizzlies
220 Malaki Branham – San Antonio Spurs
221 Christian Braun – Denver Nuggets
222 Walker Kessler – Utah Jazz
223 David Roddy – Memphis Grizzlies
224 MarJon Beauchamp – Milwaukee Bucks
225 Blake Wesley – San Antonio Spurs
226 Wendell Moore Jr. – Minnesota Timberwolves
227 Nikola Jovic – Miami Heat
228 Patrick Baldwin Jr. – Golden State Warriors
229 TyTy Washington Jr. – Houston Rockets
230 Peyton Watson – Denver Nuggets
231 Andrew Nembhard – Indiana Pacers
232 Caleb Houstan – Orlando Magic
233 Christian Koloko – Toronto Raptors
234 Max Christie – Los Angeles Lakers
235 Jaden Hardy – Dallas Mavericks
236 Kennedy Chandler – Memphis Grizzlies
237 Moussa Diabate – Los Angeles Clippers
238 E.J. Liddell – New Orleans Pelicans
239 Trevor Keels – New York Knicks
240 Isaiah Mobley – Cleveland Cavaliers
241 Jaylin Williams – Oklahoma City Thunder
242 Bryce McGowens – Charlotte Hornets
243 Tyrese Martin – Atlanta Hawks
244 Ryan Rollins – Golden State Warriors
245 Josh Minott – Minnesota Timberwolves
246 Vince Williams Jr. – Memphis Grizzlies
247 Kendall Brown – Indiana Pacers
248 Luke Travers – Cleveland Cavaliers
249 Jabari Walker – Portland Trail Blazers
250 Kenneth Lofton Jr. – Memphis Grizzlies