Prizm Football is back and it's hitting harder than ever with some of the best-looking rookie cards, autos, and inserts in the entire hobby. Not only do Prizm football cards look great but their rookie cards consistently provide the best return on investment when compared to other sets.
2022 Panini Prizm Football Hobby Box: 12 cards per pack, 12 packs per box, 12 boxes per case
Standard Hobby boxes average two autographs
Hobby No Huddle boxes contain one autograph
Available from the online Panini store on March 7 at 12 PM (Eastern), the 2022 Panini Prizm Football FOTL boxes contain online-exclusive Shimmer parallels.
Dutch Auction pricing starts at $2,000 per box
Per-box price drops until it sells out or hits $500
Trending: The Ultimate Guide to the Best Joe Burrow Rookie Cards (cardboardnerds.com)
Averages
2022 Panini Prizm Football Hobby Box Break Averages
2 Autographs
3 Base Prizm
1 Rookie Prizm
7 Inserts or Parallels
24 Rookies in Total
2022 Panini Prizm Football Hobby No Huddle Box Break Averages
1 No Huddle Autograph
10 No Huddle Prizms
18 Rookies
7 No Huddle Prizm Inserts
2022 Prizm Football Card Photos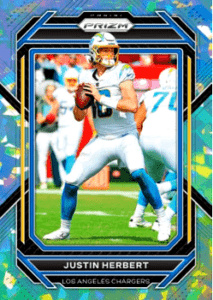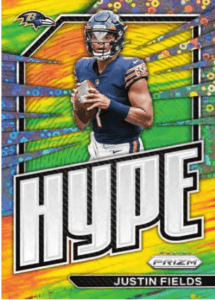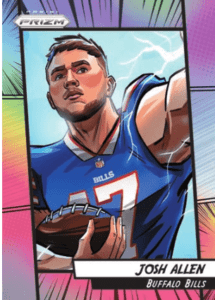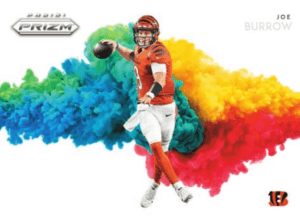 Trending: PSA Grading Cost Per Card
Key Cards
We feel the following cards will have the top return on investment over the long term. We suggest sleeving these cards, storing them safely, and in the case of a rookie get them graded by PSA.
5 Rookies
#353 Brock Purdy RC
#309 Garrett Wilson RC (offensive rookie of the year winner)
#318 Kenneth Walker III RC
#301 Kenny Picket RC
#352 Isiah Pacheco RC
5 Veterans
#131 Trevor Lawrence
#56 Joe Burrow
#149 Justin Herbert
#273 Tom Brady
#58 Ja'Marr Chase
Base Checklist (400 cards)
Prizms Parallels
Black & Red Checker
Black & White Checker
Blue, Green
Green Ice
Light Blue
Orange Ice
Red
Red Sparkle
Red/White/Blue
Silver
Snakeskin
White Sparkle
Pandora /400
Orange /249
Purple Ice /225
Blue Wave /199
Hyper /175
Red Wave /149
Purple /125
Blue Ice /99
Blue Sparkle /96
Green Scope /75
Orange Wave /60
Purple Power /49
Red & Yellow /44
Red Shimmer /35
Blue Shimmer /25
Navy Camo /25
Gold Sparkle /24
Forest Camo /15
Gold /10
Gold Shimmer /10
Green Sparkle /8
Gold Vinyl /5
Green Shimmer /5
Black Finite 1/1
Black Shimmer 1/1
Black Stars 1/1
No Huddle Prizms
Base No Huddle
Blue #/79
Red #/50
Purple #/35
Pink #/15
Neon Green #/5
1 Kyler Murray – Arizona Cardinals
2 James Conner – Arizona Cardinals
3 Marquise Brown – Arizona Cardinals
4 Rondale Moore – Arizona Cardinals
5 DeAndre Hopkins – Arizona Cardinals
6 Zach Ertz – Arizona Cardinals
7 Budda Baker – Arizona Cardinals
8 J.J. Watt – Arizona Cardinals
9 Kurt Warner – Arizona Cardinals
10 Anquan Boldin – Arizona Cardinals
11 Marcus Mariota – Atlanta Falcons
12 Cordarrelle Patterson – Atlanta Falcons
13 Richie Grant – Atlanta Falcons
14 Kyle Pitts – Atlanta Falcons
15 A.J. Terrell – Atlanta Falcons
16 Grady Jarrett – Atlanta Falcons
17 Younghoe Koo – Atlanta Falcons
18 Michael Vick – Atlanta Falcons
19 Lamar Jackson – Baltimore Ravens
20 J.K. Dobbins – Baltimore Ravens
21 Rashod Bateman – Baltimore Ravens
22 Devin Duvernay – Baltimore Ravens
23 Mark Andrews – Baltimore Ravens
24 Marlon Humphrey – Baltimore Ravens
25 Calais Campbell – Baltimore Ravens
26 Justin Tucker – Baltimore Ravens
27 Ray Lewis – Baltimore Ravens
28 Ed Reed – Baltimore Ravens
29 Josh Allen – Buffalo Bills
30 Devin Singletary – Buffalo Bills
31 Stefon Diggs – Buffalo Bills
32 Gabriel Davis – Buffalo Bills
33 Dawson Knox – Buffalo Bills
34 Von Miller – Buffalo Bills
35 Jordan Poyer – Buffalo Bills
36 Micah Hyde – Buffalo Bills
37 Jim Kelly – Buffalo Bills
38 Bruce Smith – Buffalo Bills
39 Baker Mayfield – Carolina Panthers
40 Christian McCaffrey – San Francisco 49ers
41 DJ Moore – Carolina Panthers
42 Robbie Anderson – Arizona Cardinals
43 Terrace Marshall Jr. – Carolina Panthers
44 Brian Burns – Carolina Panthers
45 Jeremy Chinn – Carolina Panthers
46 Luke Kuechly – Carolina Panthers
47 Justin Fields – Chicago Bears
48 David Montgomery – Chicago Bears
49 Darnell Mooney – Chicago Bears
50 Cole Kmet – Chicago Bears
51 Roquan Smith – Baltimore Ravens
52 Khalil Herbert – Chicago Bears
53 Jaylon Johnson – Chicago Bears
54 Dick Butkus – Chicago Bears
55 Mike Ditka – Chicago Bears
56 Joe Burrow – Cincinnati Bengals
57 Joe Mixon – Cincinnati Bengals
58 Ja'Marr Chase – Cincinnati Bengals
59 Tee Higgins – Cincinnati Bengals
60 Tyler Boyd – Cincinnati Bengals
61 Jessie Bates III – Cincinnati Bengals
62 Trey Hendrickson – Cincinnati Bengals
63 Evan McPherson – Cincinnati Bengals
64 Ken Anderson – Cincinnati Bengals
65 Anthony Munoz – Cincinnati Bengals
66 Deshaun Watson – Cleveland Browns
67 Nick Chubb – Cleveland Browns
68 Kareem Hunt – Cleveland Browns
69 Amari Cooper – Cleveland Browns
70 Donovan Peoples-Jones – Cleveland Browns
71 David Njoku – Cleveland Browns
72 Myles Garrett – Cleveland Browns
73 Denzel Ward – Cleveland Browns
74 Bernie Kosar – Cleveland Browns
75 Leroy Kelly – Cleveland Browns
76 Dak Prescott – Dallas Cowboys
77 Ezekiel Elliott – Dallas Cowboys
78 Tony Pollard – Dallas Cowboys
79 CeeDee Lamb – Dallas Cowboys
80 Michael Gallup – Dallas Cowboys
81 Dalton Schultz – Dallas Cowboys
82 Micah Parsons – Dallas Cowboys
83 Trevon Diggs – Dallas Cowboys
84 Roger Staubach – Dallas Cowboys
85 Emmitt Smith – Dallas Cowboys
86 Russell Wilson – Denver Broncos
87 Javonte Williams – Denver Broncos
88 Melvin Gordon III – Denver Broncos
89 Jerry Jeudy – Denver Broncos
90 Courtland Sutton – Denver Broncos
91 Justin Simmons – Denver Broncos
92 Patrick Surtain II – Denver Broncos
93 John Elway – Denver Broncos
94 Shannon Sharpe – Denver Broncos
95 Jared Goff – Detroit Lions
96 D'Andre Swift – Detroit Lions
97 Jamaal Williams – Detroit Lions
98 Amon-Ra St. Brown – Detroit Lions
99 DJ Chark Jr. – Detroit Lions
100 T.J. Hockenson – Minnesota Vikings
101 Amani Oruwariye – Detroit Lions
102 Barry Sanders – Detroit Lions
103 Aaron Rodgers – Green Bay Packers
104 Aaron Jones – Green Bay Packers
105 AJ Dillon – Green Bay Packers
106 Allen Lazard – Green Bay Packers
107 Rashan Gary – Green Bay Packers
108 De'Vondre Campbell – Green Bay Packers
109 Jaire Alexander – Green Bay Packers
110 Kenny Clark – Green Bay Packers
111 Brett Favre – Green Bay Packers
112 Donald Driver – Green Bay Packers
113 Davis Mills – Houston Texans
114 Laremy Tunsil – Houston Texans
115 Rex Burkhead – Houston Texans
116 Brandin Cooks – Houston Texans
117 Nico Collins – Houston Texans
118 Jonathan Greenard – Houston Texans
119 David Carr – Houston Texans
120 Andre Johnson – Houston Texans
121 Matt Ryan – Indianapolis Colts
122 Jonathan Taylor – Indianapolis Colts
123 Michael Pittman Jr. – Indianapolis Colts
124 Quenton Nelson – Indianapolis Colts
125 Shaquille Leonard – Indianapolis Colts
126 DeForest Buckner – Indianapolis Colts
127 Kwity Paye – Indianapolis Colts
128 Stephon Gilmore – Indianapolis Colts
129 Peyton Manning – Indianapolis Colts
130 Reggie Wayne – Indianapolis Colts
131 Trevor Lawrence – Jacksonville Jaguars
132 Travis Etienne Jr. – Jacksonville Jaguars
133 Zay Jones – Jacksonville Jaguars
134 Christian Kirk – Jacksonville Jaguars
135 Tyson Campbell – Jacksonville Jaguars
136 Josh Allen – Jacksonville Jaguars
137 Tony Boselli – Jacksonville Jaguars
138 Maurice Jones-Drew – Jacksonville Jaguars
139 Patrick Mahomes II – Kansas City Chiefs
140 Clyde Edwards-Helaire – Kansas City Chiefs
141 JuJu Smith-Schuster – Kansas City Chiefs
142 Marquez Valdes-Scantling – Kansas City Chiefs
143 Mecole Hardman Jr. – Kansas City Chiefs
144 Travis Kelce – Kansas City Chiefs
145 Chris Jones – Kansas City Chiefs
146 L'Jarius Sneed – Kansas City Chiefs
147 Alex Smith – Kansas City Chiefs
148 Dante Hall – Kansas City Chiefs
149 Justin Herbert – Los Angeles Chargers
150 Austin Ekeler – Los Angeles Chargers
151 Keenan Allen – Los Angeles Chargers
152 Mike Williams – Los Angeles Chargers
153 Rashawn Slater – Los Angeles Chargers
154 Khalil Mack – Los Angeles Chargers
155 Joey Bosa – Los Angeles Chargers
156 Derwin James Jr. – Los Angeles Chargers
157 LaDainian Tomlinson – San Diego Chargers
158 Antonio Gates – San Diego Chargers
159 Matthew Stafford – Los Angeles Rams
160 Darrell Henderson – Los Angeles Rams *
161 Allen Robinson II – Los Angeles Rams
162 Cooper Kupp – Los Angeles Rams
163 Tyler Higbee – Los Angeles Rams
164 Aaron Donald – Los Angeles Rams
165 Jalen Ramsey – Los Angeles Rams
166 Bobby Wagner – Los Angeles Rams
167 Marshall Faulk – St. Louis Rams
168 Isaac Bruce – St. Louis Rams
169 Derek Carr – Las Vegas Raiders
170 Josh Jacobs – Las Vegas Raiders
171 Davante Adams – Las Vegas Raiders
172 Hunter Renfrow – Las Vegas Raiders
173 Darren Waller – Las Vegas Raiders
174 Maxx Crosby – Las Vegas Raiders
175 Daniel Carlson – Las Vegas Raiders
176 Rich Gannon – Oakland Raiders
177 Marcus Allen – Los Angeles Raiders
178 Tua Tagovailoa – Miami Dolphins
179 Raheem Mostert – Miami Dolphins
180 Tyreek Hill – Miami Dolphins
181 Jaylen Waddle – Miami Dolphins
182 Mike Gesicki – Miami Dolphins
183 Xavien Howard – Miami Dolphins
184 Jevon Holland – Miami Dolphins
185 Dan Marino – Miami Dolphins
186 Zach Thomas – Miami Dolphins
187 Kirk Cousins – Minnesota Vikings
188 Dalvin Cook – Minnesota Vikings
189 Adam Thielen – Minnesota Vikings
190 Justin Jefferson – Minnesota Vikings
191 K.J. Osborn – Minnesota Vikings
192 Harrison Smith – Minnesota Vikings
193 Eric Kendricks – Minnesota Vikings
194 Danielle Hunter – Minnesota Vikings
195 Daunte Culpepper – Minnesota Vikings
196 Cris Carter – Minnesota Vikings
197 Mac Jones – New England Patriots
198 Damien Harris – New England Patriots
199 Rhamondre Stevenson – New England Patriots
200 Jakobi Meyers – New England Patriots
201 Nelson Agholor – New England Patriots
202 DeVante Parker – New England Patriots
203 Matt Judon – New England Patriots
204 Devin McCourty – New England Patriots
205 Wes Welker – New England Patriots
206 Tedy Bruschi – New England Patriots
207 Jameis Winston – New Orleans Saints
208 Alvin Kamara – New Orleans Saints
209 Michael Thomas – New Orleans Saints
210 Jarvis Landry – New Orleans Saints
211 Tyrann Mathieu – New Orleans Saints
212 Demario Davis – New Orleans Saints
213 Cameron Jordan – New Orleans Saints
214 Marshon Lattimore – New Orleans Saints
215 Drew Brees – New Orleans Saints
216 Deuce McAllister – New Orleans Saints
217 Daniel Jones – New York Giants
218 Saquon Barkley – New York Giants
219 Dexter Lawrence – New York Giants
220 Julian Love – New York Giants
221 Xavier McKinney – New York Giants
222 Leonard Williams – New York Giants
223 Eli Manning – New York Giants
224 Lawrence Taylor – New York Giants
225 Zach Wilson – New York Jets
226 Michael Carter – New York Jets
227 Braxton Berrios – New York Jets *
228 Corey Davis – New York Jets
229 Tyler Conklin – New York Jets
230 Quinnen Williams – New York Jets
231 C.J. Mosley – New York Jets
232 Joe Namath – New York Jets
233 Nick Mangold – New York Jets
234 Jalen Hurts – Philadelphia Eagles
235 Miles Sanders – Philadelphia Eagles
236 A.J. Brown – Philadelphia Eagles
237 DeVonta Smith – Philadelphia Eagles
238 Dallas Goedert – Philadelphia Eagles
239 Lane Johnson – Philadelphia Eagles
240 Darius Slay Jr. – Philadelphia Eagles
241 Fletcher Cox – Philadelphia Eagles
242 Donovan McNabb – Philadelphia Eagles
243 Brian Dawkins – Philadelphia Eagles
244 Alex Highsmith – Pittsburgh Steelers
245 Najee Harris – Pittsburgh Steelers
246 Diontae Johnson – Pittsburgh Steelers
247 Chase Claypool – Chicago Bears
248 Pat Freiermuth – Pittsburgh Steelers
249 T.J. Watt – Pittsburgh Steelers
250 Cameron Heyward – Pittsburgh Steelers
251 Minkah Fitzpatrick – Pittsburgh Steelers
252 Terry Bradshaw – Pittsburgh Steelers
253 Jack Lambert – Pittsburgh Steelers
254 Geno Smith – Seattle Seahawks
255 Rashaad Penny – Seattle Seahawks
256 DK Metcalf – Seattle Seahawks
257 Tyler Lockett – Seattle Seahawks
258 Noah Fant – Seattle Seahawks
259 Jamal Adams – Seattle Seahawks
260 Quandre Diggs – Seattle Seahawks
261 Steve Largent – Seattle Seahawks
262 Walter Jones – Seattle Seahawks
263 Trey Lance – San Francisco 49ers
264 Eli Mitchell – San Francisco 49ers
265 Deebo Samuel – San Francisco 49ers
266 Brandon Aiyuk – San Francisco 49ers
267 George Kittle – San Francisco 49ers
268 Jimmy Garoppolo – San Francisco 49ers
269 Nick Bosa – San Francisco 49ers
270 Fred Warner – San Francisco 49ers
271 Steve Young – San Francisco 49ers
272 Ronnie Lott – San Francisco 49ers
273 Tom Brady – Tampa Bay Buccaneers
274 Leonard Fournette – Tampa Bay Buccaneers
275 Mike Evans – Tampa Bay Buccaneers
276 Chris Godwin – Tampa Bay Buccaneers
277 Tristan Wirfs – Tampa Bay Buccaneers
278 Shaquil Barrett – Tampa Bay Buccaneers
279 Devin White – Tampa Bay Buccaneers
280 Antoine Winfield Jr. – Tampa Bay Buccaneers
281 John Lynch – Tampa Bay Buccaneers
282 Warren Sapp – Tampa Bay Buccaneers
283 Ryan Tannehill – Tennessee Titans
284 Derrick Henry – Tennessee Titans
285 Robert Woods – Tennessee Titans
286 Rashad Weaver – Tennessee Titans
287 Kevin Byard – Tennessee Titans
288 Harold Landry – Tennessee Titans
289 Jeffery Simmons – Tennessee Titans
290 Vince Young – Tennessee Titans
291 Chris Johnson – Tennessee Titans
292 Carson Wentz – Washington Commanders
293 Antonio Gibson – Washington Commanders
294 Terry McLaurin – Washington Commanders
295 Curtis Samuel – Washington Commanders
296 Logan Thomas – Washington Commanders
297 Jonathan Allen – Washington Commanders
298 Chase Young – Washington Commanders
299 Darrell Green – Washington Redskins
300 Sean Taylor – Washington Redskins
301 Kenny Pickett – Pittsburgh Steelers
302 Desmond Ridder – Atlanta Falcons
303 Malik Willis – Tennessee Titans
304 Matt Corral – Carolina Panthers
305 Bailey Zappe – New England Patriots
306 Sam Howell – Washington Commanders
307 Carson Strong – Philadelphia Eagles
308 Drake London – Atlanta Falcons
309 Garrett Wilson – New York Jets
310 Chris Olave – New Orleans Saints
311 Jameson Williams – Detroit Lions
312 Jahan Dotson – Washington Commanders
313 Treylon Burks – Tennessee Titans
314 Christian Watson – Green Bay Packers
315 Wan'Dale Robinson – New York Giants
316 John Metchie III – Houston Texans
317 Breece Hall – New York Jets
318 Kenneth Walker III – Seattle Seahawks
319 James Cook – Buffalo Bills
320 Tyrion Davis-Price – San Francisco 49ers
321 Brian Robinson Jr. – Washington Commanders
322 Dameon Pierce – Houston Texans
323 Zamir White – Las Vegas Raiders
324 Isaiah Spiller – Los Angeles Chargers
325 Pierre Strong Jr. – New England Patriots
326 Hassan Haskins – Tennessee Titans
327 Trey McBride – Arizona Cardinals
328 Tyquan Thornton – New England Patriots
329 George Pickens – Pittsburgh Steelers
330 Alec Pierce – Indianapolis Colts
331 Skyy Moore – Kansas City Chiefs
332 Velus Jones Jr. – Chicago Bears
333 Jalen Tolbert – Dallas Cowboys
334 David Bell – Cleveland Browns
335 Danny Gray – San Francisco 49ers
336 Erik Ezukanma – Miami Dolphins
337 Romeo Doubs – Green Bay Packers
338 Calvin Austin III – Pittsburgh Steelers
339 Travon Walker – Jacksonville Jaguars
340 Aidan Hutchinson – Detroit Lions
341 Ahmad "Sauce" Gardner – New York Jets
342 Kyle Hamilton – Baltimore Ravens
343 Rachaad White – Tampa Bay Buccaneers
344 Tyler Allgeier – Atlanta Falcons
345 Snoop Conner – Jacksonville Jaguars
346 Jerome Ford – Cleveland Browns
347 Decobie Durant – Los Angeles Rams
348 Ty Chandler – Minnesota Vikings
349 Tariq Woolen – Seattle Seahawks
350 Malcolm Rodriguez – Detroit Lions
351 Trestan Ebner – Chicago Bears
352 Isiah Pacheco – Kansas City Chiefs
353 Brock Purdy – San Francisco 49ers
354 Skylar Thompson – Miami Dolphins
355 Khalil Shakir – Buffalo Bills
356 Montrell Washington – Denver Broncos
357 Kyle Philips – Tennessee Titans
358 Jalen Nailor – Minnesota Vikings
359 Jelani Woods – Indianapolis Colts
360 Greg Dulcich – Denver Broncos
361 Jeremy Ruckert – New York Jets
362 Cade Otton – Tampa Bay Buccaneers
363 Isaiah Likely – Baltimore Ravens
364 Daniel Bellinger – New York Giants
365 Jake Ferguson – Dallas Cowboys
366 Ikem Ekwonu – Carolina Panthers
367 Evan Neal – New York Giants
368 Charles Cross – Seattle Seahawks
369 Derek Stingley Jr. – Houston Texans
370 Kayvon Thibodeaux – New York Giants
371 Jordan Davis – Philadelphia Eagles
372 Trent McDuffie – Kansas City Chiefs
373 Quay Walker – Green Bay Packers
374 Kaiir Elam – Buffalo Bills
375 Jermaine Johnson II – New York Jets
376 Devin Lloyd – Jacksonville Jaguars
377 Devonte Wyatt – Green Bay Packers
378 George Karlaftis – Kansas City Chiefs
379 Daxton Hill – Cincinnati Bengals
380 Lewis Cine – Minnesota Vikings
381 Logan Hall – Tampa Bay Buccaneers
382 Roger McCreary – Tennessee Titans
383 Jalen Pitre – Houston Texans
384 Arnold Ebiketie – Atlanta Falcons
385 Kyler Gordon – Chicago Bears
386 Boye Mafe – Seattle Seahawks
387 Andrew Booth Jr. – Minnesota Vikings
388 David Ojabo – Baltimore Ravens
389 Josh Paschal – Detroit Lions
390 Phidarian Mathis – Washington Commanders
391 Jaquan Brisker – Chicago Bears
392 Alontae Taylor – New Orleans Saints
393 Sam Williams – Dallas Cowboys
394 Troy Andersen – Atlanta Falcons
395 Jack Jones – New England Patriots
396 Drake Jackson – San Francisco 49ers
397 Bryan Cook – Kansas City Chiefs
398 Nik Bonitto – Denver Broncos
399 Nakobe Dean – Philadelphia Eagles
400 Cade York – Cleveland Browns
Base Prizm Silver Rookie Variations Checklist (42 cards)
Parallels
No Huddle
Mojo /25
Gold /10
Black Finite 1/1
301 Kenny Pickett – Pittsburgh Steelers
302 Desmond Ridder – Atlanta Falcons
303 Malik Willis – Tennessee Titans
304 Matt Corral – Carolina Panthers
305 Bailey Zappe – New England Patriots
306 Sam Howell – Washington Commanders
307 Carson Strong – Philadelphia Eagles
308 Drake London – Atlanta Falcons
309 Garrett Wilson – New York Jets
310 Chris Olave – New Orleans Saints
311 Jameson Williams – Detroit Lions
312 Jahan Dotson – Washington Commanders
313 Treylon Burks – Tennessee Titans
314 Christian Watson – Green Bay Packers
315 Wan'Dale Robinson – New York Giants
316 John Metchie III – Houston Texans
317 Breece Hall – New York Jets
318 Kenneth Walker III – Seattle Seahawks
319 James Cook – Buffalo Bills
320 Tyrion Davis-Price – San Francisco 49ers
321 Brian Robinson Jr. – Washington Commanders322 Dameon Pierce – Houston Texans
323 Zamir White – Las Vegas Raiders
324 Isaiah Spiller – Los Angeles Chargers
325 Pierre Strong Jr. – New England Patriots
326 Hassan Haskins – Tennessee Titans
327 Trey McBride – Arizona Cardinals
328 Tyquan Thornton – New England Patriots
329 George Pickens – Pittsburgh Steelers
330 Alec Pierce – Indianapolis Colts
331 Skyy Moore – Kansas City Chiefs
332 Velus Jones Jr. – Chicago Bears
333 Jalen Tolbert – Dallas Cowboys
334 David Bell – Cleveland Browns
335 Danny Gray – San Francisco 49ers
336 Erik Ezukanma – Miami Dolphins
337 Romeo Doubs – Green Bay Packers
338 Calvin Austin III – Pittsburgh Steelers
339 Travon Walker – Jacksonville Jaguars
340 Aidan Hutchinson – Detroit Lions
341 Ahmad "Sauce" Gardner – New York Jets
342 Kyle Hamilton – Baltimore Ravens